Home Office Entrepreneurs
Tips for Home Office Productivity
Starting a business at home is a great way to keep expenses down. But it's also easy to lose focus and get distracted when you are working at home. Here are some great tips for staying focused in your home-based office.
Are you experiencing productivity challenges?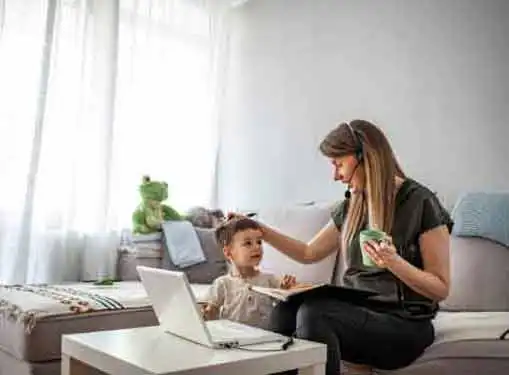 The refrigerator is calling to you because it contains the remnants of last night's chocolate layer cake. Your friends stop by unexpectedly for coffee, which apparently you're supposed to prepare. And you just remembered that your child's soccer uniform needs to be washed before tonight's game. Meanwhile, you have a very important meeting with a client in just an hour. Welcome to the head-spinning day of the home-based worker.
Because they work where they live, people who work from home have special issues involving productivity. (Most likely you won't be tempted to do laundry while writing a report if you work at a company desk in a company office.) But with a little planning and these five tips for staying focused, working from home can be highly productive. Never mind the obvious added bonus and convenience of not having to wear a suit or even to put on shoes.
1. Set up an office space.
Even if it's only a desk in the spare room, set up an office space. Buy office supplies and set your telephone nearby. Tell yourself (and your family) that when you're in this space, you're working. Better yet, put a sign on the door.
2. Create office hours.
Set specific office hours and stick to them. They can be different every day, but you need to create a work schedule and post it in a central location. Your office door might be a good place. And despite all temptations otherwise, do not do household chores during your "working" hours, even if you're the world's best multitasker.
3. Set boundaries with family and friends.
Alert your family and friends to your work hours. And while you're at it, set rules concerning your work space. Don't wait until somebody dribbles fruit punch on your client's annual report before setting a no-food policy, for example.
If possible, close the door on your office and ask your family not to touch anything in the room. If that's not practical, make a "No Touch" stack or put your on-going projects into a closet or covered box that is clearly marked.
4. Work with your family's schedule and your own moods.
If your family lives at home with you, try to arrange your work hours so they correspond to everyone else's schedules. Obviously, the best time to concentrate would be when the children are in school. But also make sure you don't do things like take on a huge project during your children's vacation from school-unless you can afford to hire a babysitter.
By the same token, work with your own moods and body rhythms. If you aren't a morning person, save your creative work for the afternoon and spend the morning returning telephone calls or updating your records or anything that doesn't take deep thought.
5. Learn to say no.
Just as those who work in a company workplace need to say no to interruptions, so do home-based workers. You can use Caller ID to skip talking to telephone solicitors or chatty neighbors. But you may also just have to bite the bullet and be upfront with friends and relatives and simply tell them that you are working and cannot talk, go out for coffee or meet them for lunch.
With a little forethought and some practice, you will become accomplished at filtering out distractions and staying focused in your home office. And the result will be that you produce as much work-and maybe even more-than your colleagues in a more corporate environment. And, hey, you'll never have to worry about having left your lunch on the kitchen counter as you hurriedly ran out the door so you could beat rush-hour traffic into the office.
Share this article
---
Additional Resources for Entrepreneurs