Hosted PBX
Hosted PBX Phone System Vendors
If you're in the market for a hosted PBX phone system, you'll need to evaluate more than just features and pricing. Since hosted PBX is provider-based, it's important to spend even more time evaluating the vendors themselves.
If you do a quick Google search of hosted PBX phone system vendors you'll quickly be inundated with companies offering low-priced alternatives to more traditional business phone system solutions.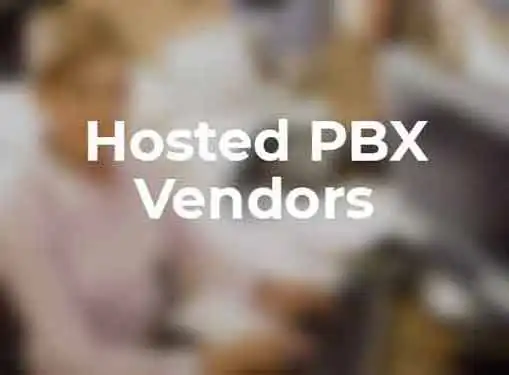 Make no mistake about it – hosted PBX phone systems can save money for many small businesses. But unless you do your homework, you could end up settling for a hosted PBX vendor that lacks the ability to live up to their lofty promises.
Unlike other business phone system solutions, hosted PBX clients rely on providers for day-to-day phone service. Since incoming calls are routed through the provider's data network, a subpar provider can quickly translate into a phone system nightmare.
When you shop for a hosted PBX vendor, cost shouldn't necessarily be your first consideration. Budget is a factor, but an inexpensive solution is no solution at all if it results in hit-or-miss phone service. Here are some of the other factors to consider in a hosted PBX vendor.
Experience & longevity. Over the past few years, hosted PBX has become very popular. As a result, the marketplace is full of late entry providers. Although some of these providers may be perfectly acceptable, many lack the experience and expertise to deliver reliable phone coverage.
Downtime guarantees. Vendor service contracts should clearly describe the amount of downtime you can expect for system repair and maintenance. If a vendor fails to discuss downtime guarantees or cannot provide adequate assurances, move on to another provider.
Available features. In addition to understanding each vendor's standard features, you need to explore the advanced features and packages they offer. Even though you might not require more advanced features now, it's nice to know about the features that are available to as your company grows.
Compatibility. A hosted PBX phone system uses VoIP technology to route calls into your company. That means you should be able to benefit from advanced features that integrate voice and data resources – but only if the system is compatible with your existing applications.
Sales support. It's not unreasonable to expect a certain amount of sales support from potential vendors. You'll want to look for a vendor that is more concerned about making sure you get the right solution than they are about making a sale. Expect quality vendors to do an on-site assessment to determine how much of your existing hardware can be used for the new system.
Share this article
---
Additional Resources for Entrepreneurs