Coming Up With Business Ideas
Hot Small Business Sectors
Written by James Garvin for Gaebler Ventures
When it seems every business is in a downward spiral, there are still a few small businesses that are thriving.
Our nation has gone through one of the worst downturns in history where large and small companies have fallen by the wayside, yet there are still a few glimmering hot spots for small businesses that have not only defied the downturn, but have thrived over the past two years.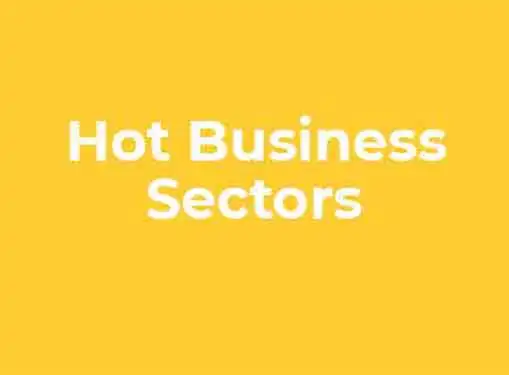 Sometimes looking at current success stories and trends can help you identify a potential new business opportunity that can lower your risk since there is already strong demand in the market for the products or services offered by these firms.
Local neighborhood frozen yogurt and cupcake/chocolate shops have expanded tremendously in urban locations throughout the United States over the past few years. Self serve frozen yogurt has become the new consumer rage as consumers continue to seek their favorite past time treat (ice cream) in a healthier frozen yogurt form. Chocolate shops have long been a recession proof businesses and have continued to thrive, however most recently cupcake stores have joined the list of consumer must haves.
There have been numerous stories of past finance professionals laid off from the recession, opening cupcake stores focused on providing a delicious and hard to resist treat. Butch Baker in New York has been profiled in nationally syndicated news sites for their ever popular "manly" cupcakes that defy the traditional pink and butter cream frosting tops. Butch Bakery is just one among hundreds of cupcake shops that have recently blossomed in cities like New York and San Francisco. While Americans can give up $100 dinners out, they find it more difficult to give up life's little indulgences frozen yogurt, chocolate, and cupcakes.
The other popular small business trend that has taken the nation by storm is the daily deal and steep discounted items. These daily deals are often discounted by 50-90% for local businesses and services as a means to stimulate foot traffic in their stores. Groupon and LivingSocial are just a few among the ever growing list of websites trying to capture the daily deal syndrome. There is no question, consumers like to get deals, especially to places that they want to go to, and as a result, Groupon has achieved a greater than $1BN valuation after just 2 years in operation.
As an entrepreneur, it is important to look at current and emerging trends to identify what business opportunities you can capitalize on. Certainly, the aforementioned businesses have done extremely well over the past 24 months, but be careful about always believing the hype. What is hot today won't necessarily be a hot business tomorrow. However, we can learn a lot from what these firms have in common and what has made them so successful. The underlying theme among these firms is they found a way to give customers what they want in a way that allowed them to make a profit (even in a recession).
James Garvin began his education studying biotechnology. In recent years he has turned his interest in technology to helping two internet startup companies. The first business was an online personal financial network and the second was an e-marketing platform created to help entrepreneurs demo their web sites. Currently a student at University of California Davis, James is spending his summer incubating two new online businesses and writing about his entrepreneur experiences.
Share this article
---
Additional Resources for Entrepreneurs