Coming Up With Business Ideas
How To Capture Innovative Ideas From Your Staff
Written by Nidhi Ann Raj for Gaebler Ventures
Encourage employees to think differently and to come up with innovative and creative ideas. Evaluate these ideas on a regular basis and implement realistic ones.
When you think about innovation one of the companies that come to your mind is Google. What makes Google so different?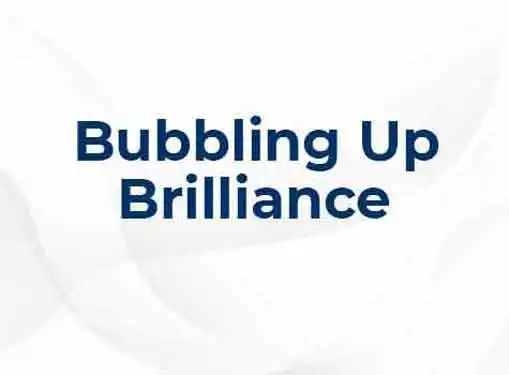 Google encourages its employees to spend 20% of their time to try new projects.
Google isn't the first to attempt the 20% time concept. 3M had developed a 15% time concept with the same philosophy. Products like Post-It notes were created by 3M engineers as individual projects without a formal budget or managerial support. The underlying theme is if you intend to let ideas flow in your organization you should encourage experimentation. Explosive or transformational ideas rarely come out of "organized" brainstorming. You have to let employees be their bosses – make them feel empowered. You would rarely find an individual who is not interested to create something new, do something different. The idea is to channel the energy and enthusiasm to the organizations benefit.
However, it's a double edged sword. You can't have employees spending all or most of their time on idea generation. Day-to-day work has to go on. Therefore, while an organization promotes innovation, it should also promote a culture of strict work ethic. Make sure the remaining 80% of the time the productivity is high – completing deliverables on time.
Innovation is not just a buzzword. When you take your organization on the path of innovation led growth, you have to be totally committed to it. There should to be a panel or forum that evaluates ideas that could be taken to the next level. If an employee spends 20% of his time on a pet project, he is not doing it for fun; he intends to take it through completion. He has no doubts about it and you should not doubt his intention either. Once his/ her idea has been approved, involve the employee in the implementation phases. This way, the employee will feel accountable and take ownership of his idea from start to end. You never know, the employee may also come up with more creative ideas on how to make his initial idea a reality!
Lastly reward employees who come up with creative and 'out of the box' ideas, even if they may not be implemented. This does not mean reward every employee who spends time on idea generation and produces a fancy piece of his imagination. Reward ideas based on a set of criteria which can be set by the evaluation committee. Appreciating people for their ideas, will definitely encourage them (and others) to think harder!
Nidhi Ann Raj is a gifted writer who is currently pursuing post-graduate studies at George Brown College in Toronto Canada, where she is specializing in Marketing and Finance.
Share this article
---
Additional Resources for Entrepreneurs