Where Do I Get a DUNS Number?
How to Get a DUNS Number
If you are new to the world of small business credit, you'll soon be asking: Where do I get a DUNS number? That's because small business credit applications inevitably ask for a DUNS number. This article explains in simple terms how to get a DUNS number.
As a small business owner, you need a DUNS number.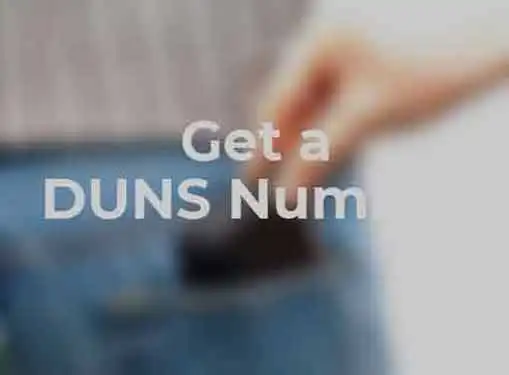 In this article, we explain why you need a DUNS number and how to get a DUNS number.
Why Get a DUNS Number?
A DUNS number is a unique nine-digit identifier that Dun and Bradstreet will create exclusively for your business. As a small business owner, you'll find it difficult to get credit if you don't have a DUNS number.
It's especially important if you will be getting government contracts. In fact, the U.S. Government requires all suppliers and contractors to have a DUNS Number. The same is true of many large corporations and foreign governments. Even smaller companies will frequently ask you for a DUNS Number before extending credit to you.
Why do I need a DUNS number to get credit? We're guessing that's your next question.
The answer is that a DUNS number has become the standard way for organizations to make a credit decision when a small business applies for a loan, credit financing or purchase order credit terms.
Get a DUNS Number Now
Go to Get a DUNS Number at Dun and Bradstreet's site, and you can apply for a DUNS number. There is no fee.
After applying for a DUNS number online, it can take up to thirty days to get your DUNS number.
The process is greatly accelerated if you are getting a DUNS number to apply for a federal grant program or become a government contractor. In that case, you can call a special toll-free number at 1-866-705-5711. Tell the operator that you need the DUNS number for a federal grant application and you will get a DUNS number in ten minutes.
There is also a special online form for folks that want to obtain a DUNS number for government contracts or grants. Just visit D&B D-U-N-S Request Service. If you use this form, you can get a DUNS number in one day.
In order to get a DUNS number, you will need to have the following information: Legal name of your organization, physical address (and P.O. box if you have one), telephone number, Web address, name of the owning officer or CEO, the purpose of your organization, and the total number of employees.
Getting a DUNS Number alone will not automatically establish a D&B credit file for your company. If you are requesting a DUNS Number to establish that your business is credit worthy, you may want to pay extra to get a credit file. This is done through the Credit Builder offering, which comes in a variety of packages.
Having said that, DUNS may build a credit file on you even if you don't buy Credit Builder. If you get credit terms with a business that regularly works with Dun and Bradstreet, the vendor may give your information to Dun and Bradstreet and they will open a credit file on you. In fact, even if you do not apply for a DUNS number, Dun and Bradstreet may create one for you.
The key here is that this "might" happen and it "can" happen, but if you absolutely want to be sure to get a credit file, it's worthwhile to spend a few bucks to make sure it happens. By purchasing Credit Builder, you take direct control of the credit file, rather than having it evolve on its own, potentially with inaccurate information.
However, if money is scarce, you may want to just get the free DUNS number. Sales reps can be very aggressive in trying to upsell Credit Builder, so you'll need to stand your ground if you decide to go that route.
Share this article
---
Additional Resources for Entrepreneurs