Starting Your Business
How to Start a Brand New Business Without ANY Money
Written by Mac Cassity for Gaebler Ventures
Start-up costs of a new business can be EXTRAORIDINARY...but they don't have to be. Follow the simple tips provided by this article to get your business up and running and making money even if you have nothing to invest other than passion and a strong desire to succeed.
Starting your own business can be extremely rewarding and often very lucrative.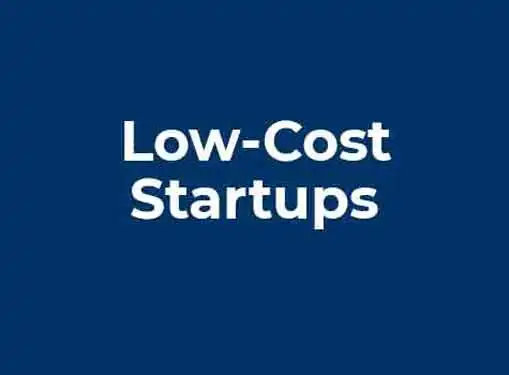 It can also be VERY expensive. Start up expenses can store when you add up things like office space, computer equipment, business cards, and extensive advertising and promotional campaigns. Many new businesses fail before they ever earn enough to pay these initial startup expenses. The fact is, though, it is possible to start a business and begin making money without investing anything up front.
Below are some tips and techniques to allow you to start up your business and begin making money even if you have no money for start-up expenses at all.
Establish a web presence for free using Facebook
The extremely popular social network Facebook now allows businesses to market themselves using Facebook Fan Pages. These fan pages are like mini websites and offer some of the same features you used to have to pay for with a traditional website. You can upload a video that tells all about your business, allow visitors to opt in to your e-mail list, and even include links where prospects can purchase what you have for sale. This can allow you to establish a web presence without having to have your own personal website at all.
Forget the office, for now
Oftentimes, the biggest start-up expense new business owners face is that of their business location. Sure it's great to have a nice office with a beautiful view, that there's really no point in setting up an office until you've at least started to make some money. Thanks to the Internet, your office can be wherever you have an Internet connection. Work from your home or the coffee shop down the street until you've earned enough money to grab the location of your choice.
Generate sales by letting your friends and family know about your new business venture
Many of your friends and family may be extremely supportive of your efforts and will become your first customers and the first people to refer you new ones as well. Start out by letting them know how important this venture is to you and how much their support would mean as well. If they're not interested in your products don't become dejected, simply ask if they know of anyone else who may be. You'll be surprised at how quickly your list of prospects and customers will grow using this method.
Send a quick e-mail to everyone you know
It costs nothing to pop out an e-mail to everyone on your e-mail list letting them know about your new business. Make sure not to try to overtly sell them but instead simply tell them about what it is you're doing now and give them contact information in case they want to learn more. If your e-mail list is big enough, you're sure to generate some interest by doing this.
Attend the local free networking events
Networking events are a great way to let a large group of people know about your business quickly. If you scan your local business publications you're sure to find several networking events each month that cost nothing to attend. At this stage of the game you may not even have business cards but that's okay. Simply get a business card from each individual that you meet and take the time to follow up with them after the event.
Join free social networks
Online social networking is another way to begin building your list of prospects and referral sources. Take the time to fill out a content rich profile and interact with others on the network. Again, it is important that you do not force your product on others, but instead find ways you can be of service to them. Your goal is to establish a large number of people in your network that are interested to hear from you and would love to refer you business.
The tips above should allow you to begin selling your product and pulling in some money even when you had none to invest to begin with. Establishing this method of action will allow you to be profitable almost from day one and you'll be light years ahead of other business owners who began their business the old-fashioned way... by going into debt before they've collected their first check.
Mac Cassity is an entrepreneur and business person. Mac began writing professionally when he was twelve years old for a comic book collecting publication. Today, he has experience in insurance agency management and runs his own freelance writing business, Mac the Knife Articles.
Share this article
---
Additional Resources for Entrepreneurs