Entrepreneur Business Opportunities
How to Start a Lumber Yard
Opening a lumber yard is an excellent entrepreneurial opportunity if you do it right. Here are tips and advice that can make your business profitable, stable and built to last.
Thinking about opening a lumber yard? We tell you what you need to know to get started.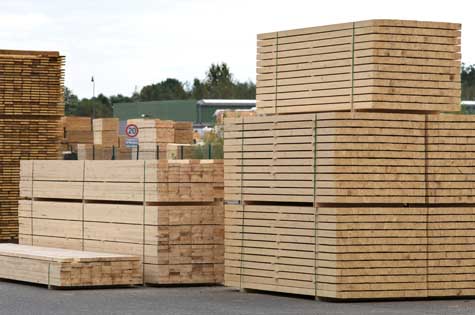 Learn how to turn piles of wood into piles of money.
The Ins & Outs of Lumber Yards
Lumber yards play a central role in the building trade, supplying contractors, homebuilders and Do-It-Yourselfers with the raw materials they need to construct safe houses and commercial structures.
If they don't mill their own materials, most lumber yards have a strategic relationship with a local lumber mill. The mill planes and processes raw timber for either general availability or for customer orders placed through the lumber yard.
These days, nearly all lumber yards have expanded their product offerings to include composite materials, construction supplies and hardware merchandise.
Lumber Yard Startup Costs
Like most business startups, lumber yards require an upfront investment of capital. Assuming you have already secured an adequate location for your yard, you'll need to carefully estimate the costs you will incur on the road to your first day of business.
The most common startup costs include forklifts, pallet jacks, lumber storage units, supply shelving, retail equipment and inventory. Although you can custom order lumber from the mill on a go-forward basis, you'll need to keep a sufficient supply of lumber on hand for general purpose requests and to maintain the appearance of a vibrant lumber operation.
Lumber Industry Connections
The lumber industry is constantly adapting itself to the needs of today's building supply consumers and changing environmental regulations. As a lumber yard owner, you'll need to stay current on industry developments so you can educate your customers and comply with industry standards.
The National Lumber & Building Material Dealers Association and other trade groups offer membership opportunities for lumber yard owners as well as information to keep you at the top of your game.
Best Lumber Yard Business Plans
An effective business plan is your lumber yard's stepping stone to profitability and long-term success.
At the end of the day, your lumber yard can't afford to skate by with an inferior business plan. Why? Because there are a multitude of reasons why your company can't succeed without a sound business plan.
As a rule, don't exit the business planning process until you are completely satisfied with the scope and content of your business plan.
Assess the Competition
Long before you open a lumber yard in your area, it's essential to see how you will fit in the competitive landscape. Try our link below to generate a list of competitors in your city. Simply enter your city, state and zip code to get a list of lumber yards in your town.
Prior to opening your doors for business, be sure you fully understand the competitive landscape and where your new business will fit in.
Turning Competitors Into Collaborators
If you are seriously contemplating launching a lumber yard, it's essential that you learn as much as you can from somebody who is already in the business. If you think your local competitors will give you advice, you're being overoptimistic. What's in it for them?
On the other hand, an individual who has a lumber yard in another town may be more than happy to give you a few tips, provided that you won't be directly competing with them. Many business owners are happy to give advice to new entrepreneurs It can take a while to find an entrepreneur who is willing to talk, but it's well worth the effort.
How do you find a lumber yard manager in a different locale who can assist you?
Here's one way to do it. Just use our link below, find somebody and call them.
Advantages of Using a Business Broker
Business owners are decision makers. And the first decision you'll need to make is between a lumber yard startup and an acquisition. Unless you have specific business objectives that require a startup approach, you're probably better off trying to buy an established lumber yard.
Although you could navigate a business acquisition on your own, most prospective lumber yard owners enlist the services of a business broker.
Top quality brokers with an industry track record understand the nuances of lumber yard acquisitions and are equipped to make your transition to lumber yard ownership as easy as possible.
Is Franchising the Right Option?
Your odds of avoiding failure in business are much better if you go the franchising route instead of doing it all on your own.
Before you get too far along in your plan to open a lumber yard, you ought to check out whether buying a franchise could help you on your entrepreneurial journey.
The link below gives you access to our franchise directory so you can see if there's a franchise opportunity for you. You might even find something that points you in a completely different direction.
More Startup Articles
These additional resources regarding starting a business may be of interest to you.
Questions to Ask Before Starting a Business


Have Friends Who Might Like This Article?

Share this on Twitter
Let them know on LinkedIn
Ready to Learn More? We Think You Might Like These Articles:
---
Additional Resources for Entrepreneurs