Starting a Business Articles
How to Start a Tennis Instruction Business
Opening a tennis instruction business is your ticket to owning a good, stable business if you do it right. This article contains tips and advice that demystifies what it takes to be successful.
Thinking about opening a tennis instruction business? We tell you what you need to know to get started.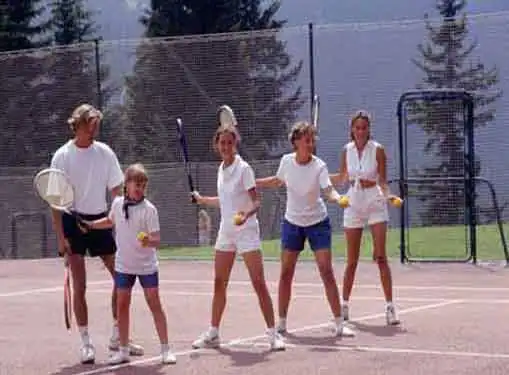 Tennis anyone? Tennis instructors can make money through private lessons, contracted club instruction, tennis center ownership and product sales.
Tennis Instruction: Market Snapshot
A study performed by the Sports & Fitness Industry Association (SFIA) in 2009 showed that tennis is the fastest growing, individual traditional sport in the U.S. with a 43% increase in participation from 2000 to 2008. With more kids and adults entering the sport everyday, the demand for high quality tennis instruction will only continue to rise in throughout the foreseeable future.
But to earn a decent living, tennis instructors need to adopt an entrepreneurial approach to their profession. Providing half-day instruction at a seasonal, three-month kids' camp is a good start, but it won't deliver the kinds of earnings you need to make tennis instruction your full-time profession.
The most successful tennis instruction businesses are driven by a combination of private lessons (kids & adults), contracted club instruction and sometimes even tennis center ownership or product sales. Regardless of which route you take, one thing is clear - as a would-be tennis instruction business owner, you need to invest as much effort into your entrepreneurial development as you do in your tennis instruction skills.
Steps to Becoming a Certified Tennis Instruction Provider
Tennis instructors aren't usually subject to certification mandates. However, most instructors pursue certification because it conveys a sense of professionalism to prospective clients and students.
Experience & Expertise. It's foolish to launch a tennis instruction business before you have achieved a certain level of experience and expertise in the sport. At a minimum, play for a season and volunteer to help at a kids' tennis camp to get a feel for the game and instruction methods.
PTR & USPTA Memberships. Certifications are available through both the Professional Tennis Registry (PTR) and the U.S. Professional Tennis Association (USPTA). Both organizations offer a range of benefits and certifications to members, so you'll need to do your research to decide which one is right for your business.
Background Clearances. Since tennis instructors regularly work with kids, you should obtain a criminal record clearance or background check prior to initiating any instruction activities with young people.
Student Acquisition. Networking, club contacts and referrals are effective ways to build an initial base of students. You may also want to consider creating a business website and using social media to expand your marketing reach.
Hire More Instructors? As your business grows, consider hiring additional instructors to handle student demand. Although you'll keep a share of their earnings, the selling point for instructors is that they can focus on tennis instead of dealing with student enrollment issues.
Successful Business Plans for Tennis Instruction Schools
As a startup small business owner, you need to have a business plan you can rely on for both external and internal purposes.
Although there are a lot of tasks screaming for your attention, cutting corners on your business plan can be a precursor to disaster. Even though it takes time to write a high quality plan, there are a lot of arguments why your company can't succeed without an effective business plan.
Before you do anything else, perform a reality check on your startup business plan – and if it's lacking, drop everything and head back to the drawing board.
Evaluate the Competition
Prior to opening a tennis instruction business within your community, it's a good idea to find out how you will fit in the competitive landscape. Use the link below to generate a list of competitors in your city. Just enter your city, state and zip code to get a list of tennis schools in your community.
Is the established competition doing a good job? It's important to understand their strengths and weaknesses and think through how you'll stake up against those established businesses.
Learn from Others Who Are Already In This Space
If you are interested in starting a tennis instruction business, it's a wise move to speak with somebody who is already in the business. Local competitors are not going to give you the time of day, mind you. What's in it for them?
Thankfully, an owner of a a tennis instruction business outside of your community may be more than happy to give you a few tips, given that you don't compete with them in their area. In that case, the business owner may be more than happy to discuss the industry with you. It can take a while to find an entrepreneur who is willing to talk, but it's well worth the effort.
How do you go about finding an entrepreneur who is running a tennis instruction business outside of your area who is willing to talk?
Here's how we would do it. Try the useful link below and key in a random city/state or zipcode.
Business Brokerage for Tennis Instruction Business Entrepreneurs
Sooner or later, every entrepreneur confronts the choice to start a business or buy an established company. In most cases, there are compelling financial and practical reasons buying an existing tennis instruction business.
If a business purchase seems like the right move, your first step should be to contact a qualified business broker. Why? Because business brokers offer several advantages to tennis instruction business entrepreneurs.
The best business brokers will ensure that you get the right business for the right price, and will help you avoid common tennis instruction business acquisition mistakes.
Don't Rule Out Franchising
The probabilities on your achieving your top business goals are much better if you purchase a franchise rather than going it alone.
Prior to making the decision to open a tennis instruction business, you ought to determine whether franchising might help you on your entrepreneurial journey.
The link below gives you access to our franchise directory so you can see if there's a franchise opportunity for you. You might even find something that points you in a completely different direction.
Other Useful Articles for Startup Entrepreneurs
These additional resources regarding starting a business may be of interest to you.
Share this article
---
Additional Resources for Entrepreneurs