Start a Business
How to Start a Wedding Photographers Business
Launching a wedding photographers business? Follow our advice to make the process more manageable.
Thinking about opening a wedding photographers business? We tell you what you need to know to get started.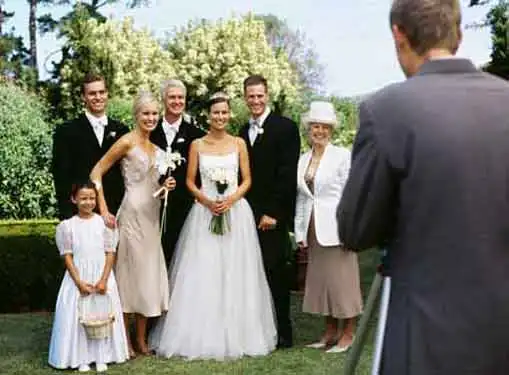 Developing the Skills to Be a First-Rate Wedding Photographer
Wedding photography presents more than a few challenges for growth-minded entrepreneurs. The basis for a successful wedding photography operation is, of course, demonstrated aptitude in the field of photography. Formal coursework (including courses in wedding photography, internships and direct work experience may be necessary to obtain the level of competency that is expected by today's wedding consumers.
At the same time, you will need to nurture and develop your entrepreneurial skill set. Average photographers with exceptional entrepreneurial skills can run highly successful wedding photography businesses. On the other hand, truly gifted photographers who lack fundamental business skills have little chance of surviving in highly competitive markets.
Unless you have the time and resources to invest in a formal business education, the best way to learn entrepreneurism is through self-initiated courses of study. Leadership articles, business books, mentors, coaches, peer groups and other resources can all be leveraged to give you the background you need to succeed as a business owner.
How to Start a Wedding Photography Business on a Budget
Startup capital is often scarce for aspiring wedding photography entrepreneurs. Fortunately, it's possible to launch a wedding photography on the cheap or even as a part-time passion until the business generates enough revenues for a full-time career.
The key to launching a wedding photography business on the cheap is simplicity. If you don't absolutely need it, you don't buy it -- or you delay buying it until the business grows. A basic home office, a few professional quality cameras, lighting equipment and a marketing plan are really enough to get your business up and running. Prints and other functions can be outsourced to third-party providers, allowing you to get started with an initial investment of a few thousands dollars.
Ramping Up Your Wedding Photography Startup
If everything goes as planned, your startup should be poised for growth by the time the second or third wedding season rolls around. But have you considered how you will scale up your operation to handle increased demand?
Strategic planning begins during the startup phase. The time to begin planning for growth is now. Eventually, your startup's expansion will require additional hiring and equipment purchases. A good strategic plan will address these issues and produce benchmarks that will trigger specific growth acquisitions.
By planning for growth requirements early in your wedding photography startup's lifecycle, you create an environment that is conducive for smart growth rather than the kind of haphazard growth that can ultimately sink your business.
Core Characteristics of Wedding Photography Company Business Plans
Ask a dozen people how to write an effective business plan and you'll get a dozen different answers. But despite the diversity of approaches, there are some business plan features that are absolutely essential.
If your plan lacks required elements like an executive summary or marketing plan, it could jeopardize its potential to deliver real benefits to your startup.
But in today's business environment, it's also important to discuss the external factors your wedding photographers business is facing. As a rule, we recommend including a PEST (Political, Economic, Social & Technological) analysis in your business plan as a way of addressing potential threats and opportunities at the macro level.
Consider Competitors
Before you open a wedding photographers business within your community, it's a good idea to find out how you will fit in the competitive landscape. Use the link below to get a list of local competitors in your city. Complete the form by entering your city, state and zip code to get a list of wedding photography businesses that are close by.
If there's too much competition, it may be wise to consider starting the business in a less competitive marketplace.
Finding a Non-Competitive Business Mentor
If you are interested in starting a wedding photographers business, it's essential that you learn as much as you can from somebody who is already in the business. It's very unlikely that the local competition will talk to you. Why would they want to educate a future competitor?
Thankfully, an owner of a a wedding photographers business on the other side of the country may be willing to share their entrepreneurial wisdom with you, after they realize you reside far away from them and won't be stealing their local customers. In fact, they are often very willing to share startup advice with you. Our estimate is that you may have to contact many business owners to find one who is willing to share his wisdom with you.
Where can you find a wedding photographers business entrepreneur on the other side of the country to talk to?
It's not that hard. Just use the handy link below and enter in a random city/state or zipcode.
Advice for Acquiring a Wedding Photography Business
If you've made the decision to buy a wedding photographers business instead of pursuing a startup, you're on your way to a successful ownership experience.
Yet for many entrepreneurs, financing represents a major hurdle to buying a wedding photographers business. Business acquisitions are easier to finance than business startups, even though the financing process can still be exhausting.
Our Business Acquisition Financing Tips have the information you need to successfully navigate the challenges of financing your new business.
Is Franchising the Right Option?
Recognize that your chances of growing your business are much greater if you purchase a franchise and leverage their successful brand and track record.
Prior to making the decision to open a wedding photographers business, you would be wise to check out whether purchasing a franchise might make your life much easier.
The link below gives you access to our franchise directory so you can see if there's a franchise opportunity for you. You might even find something that points you in a completely different direction.
Related Articles on Starting a Company
These additional resources regarding getting started as an entrepreneur may be of interest to you.
Share this article
---
Additional Resources for Entrepreneurs