Effective Ad Copy
Keys to Writing Good Ad Copy
Writing good ad copy is both an art and a science, but you don't have to be a professional writer to get it right. A few tricks of the trade will help you write good ad copy and get more results from your advertising dollars.
Good ad copy doesn't just happen.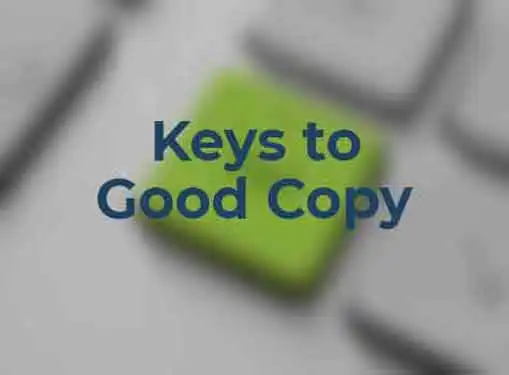 It's a process that begins with a headline that grabs the reader's attention and ends with an invitation to make a purchasing decision. With just a few words, a skilled, professional copywriter can pitch your products and bring customers flocking to your door.
But you're not a skilled, professional copywriter - you're a small business owner. And writing effective ad copy seems a little out of your reach. You might not know it yet, but you can write good ad copy. Here's what you need to know to start writing ads that will blow the lid off your business.
Get the readers' attention.
Effective ad copy catches the readers' attention from the very first word. The way great headlines grab the reader's attention is by providing useful information about your offer. For example, "Big discounts!" is not a very effective headline because it doesn't say anything. "25% off office supplies!" is much better because it succinctly communicates value and gives the reader an idea what to expect from the rest of the ad.
Communicate benefits, not features.
Instead of communicating the benefits of their products, a lot of business owners waste time communicating their features. For example, if you're running a promotion for your hardware store, your copy should reflect the idea that people don't buy snow shovels because they are constructed of space-age plastics and ergonomically-engineered. They buy them because they are inexpensive, durable and easy on the back.
Maintain corporate consistency.
The content of your ad has to be informative and interesting, clearly describing the value proposition you are offering to consumers. At the same time, it has to be consistent with your other communication vehicles and branding efforts. Words, catchphrases, and tones that dominate other marketing materials should also appear in your advertising copy.
Be persuasive.
Sometimes business owners get so caught up in the nuts and bolts of writing an ad that they forget the ad's primary purpose is persuasion. Using short sentences and familiar words, your copy should lead the reader to a buying decision and end with an urgent call to action, e.g. "Call now!", or "Stop in today for a free cup of coffee!".
Share this article
---
Additional Resources for Entrepreneurs