Small Business Human Resources
Laying Off Employees
Written by Andrew Goldman for Gaebler Ventures
The balance between laying off your workforce versus keeping them on until better times can be tricky. Properly managing this balance can greatly improve your company in a time of need.
When a company faces tough times there are many critical decisions that have to be made.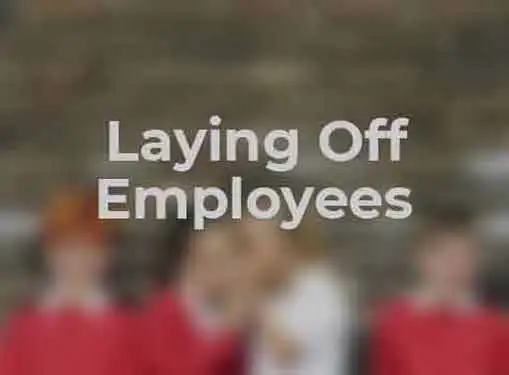 When money is hemorrhaging and sales are not coming through the door, you may have to face the heartbreaking task of laying off some of your workforce.
As emotional as this process can be, you need to fully analyze the situation from a business and financial prospective. Laying off your workers too soon or too late can mean the difference between staying in business and going under.
The first step is to calculate how much more revenue you would need to generate in order to keep the employees on full-time. If this number is unachievable, your decision to lay off the employees may be warranted. You need to consider the costs associated with laying off the employees as well. Are you offering a severance package and will you have to pay unemployment?
In addition, you need to analyze what sales are on the horizon. If you are in a temporary lull and you are expecting future sales in a few months, you need to do some calculations. Determine the cost of rehiring the employees in a few months versus the costs of laying off your employees. There are intangible factors to consider as well. There's a chance you might not get all the employees to return and would have high training costs for new employees. There is also an emotional toll that lay-offs take on your existing employees.
In general, if the cost of maintaining the employees is close to the cost of laying them off, you should maintain your workforce. Sometimes I see businesses calculate this number and determine lay-offs are more appropriate because "there's not enough work to get done". While this may be true, it is possible to improve your workforce during slow periods. You can offer training to your employees or work on getting your business up to code or obtain new certifications. These options can be beneficial to both your company and your employees.
If the future looks bleak, cross-training and certifications is probably not the best road to travel. If you do not expect the business to grow within the year, and you're operating at a loss, it would seem the lay-offs are the appropriate step. Make sure you understand the costs associated and the effect it will have on your current staff. There's nothing worse than laying-off employees only to call them back three months later.
The decision to lay-off employees is a difficult one. Before making this decision, make sure you've fully analyzed all options.
It can be an emotional time and the lay-offs can be gut-wrenching. Once you've determined lay-offs are necessary it's important to trudge forward with the process. After all, you are running a business and a business must generate enough revenue to sustain itself.
After the lay-offs, be sure to address the remaining employees and attempt to ease their concerns. It's important to get their buy-in that the layoffs were a necessary path to allow the company to improve and get their commitment to execute on the improvement plan.
Andrew Goldman is an Isenberg School of Management MBA student at the University of Massachusetts Amherst. He has extensive experience working with small businesses on a consulting basis.
Share this article
---
Additional Resources for Entrepreneurs