Real Estate Articles
Liquidated Damages
Written by Brent Pace for Gaebler Ventures
If you want to protect yourself during the construction process, a solid liquidated damages clause is a good way to do it. Read here to find out what liquidated damages are and how they work.
There are many important tools that you can use as an entrepreneur when you manage the construction of your building.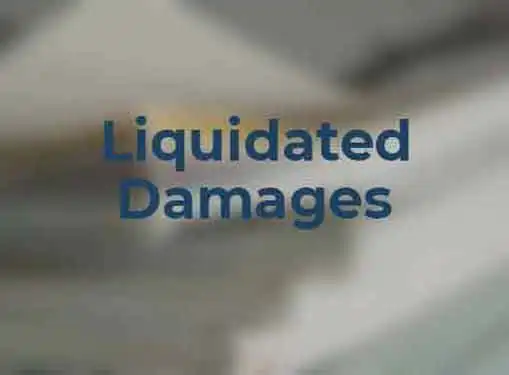 A solid contract, construction process management, and utilization of retention are a few of the items that can help ensure your success. Sometimes, however, there is a very important deadline that simply cannot be missed. Missing this deadline would cost your company potentially millions of dollars. So how can you incentivize your contractor to hit the date? The simple answer is to use a liquidated damages clause in your construction contract.
Liquidated Damages Described
The basic premise of liquidated damages is the concept that a contractor can, through non-performance, cost the owner of a project millions of dollars in lost revenue. This can be especially true if you are building a project which has a launch date that has been marketed to the public and set in stone.
To try to help the contractor perform a liquidated damages clause is inserted in the construction contract. The clause specifies specific amounts (damages) that will be due to the owner from the contractor in the event that they do not his specified targets in the contract. The most common of these targets is a date certain for project completion.
Examples of Liquidated Damages
One of the easiest examples of liquidated damages is in stadium construction and renovation. While I understand most entrepreneurs aren't cutting their teeth on stadium construction, the point is still illustrative.
Let's suppose that you are the contractor for the renovation a football stadium for a University. The University has given you a very specific time frame in order to not harm their schedule. At the end of the previous season (probably early December) you start work. In order to not pay any damages, the stadium renovation must be complete by mid August. Why? Because if the first home football game is scheduled for the end of August and the stadium is not done, that could mean millions of dollars in lost revenue for the University. This is especially true if the game has to be moved to the opponent's home field or if the game is moved to a neutral site where a lease fee must be paid.
This example could just as easily be applied to a company who needs to launch a new product in time for the Christmas rush. If you need your new manufacturing facility done by May in order to ramp up production in time for the Fall/Winter Christmas rush, you may also need a liquidated damages clause.
How Are Damages Determined?
The contract should specify the exact amount of damages due for non-performance. In the football scenario it is simple: it could be the revenue lost from each home game missed. In the manufacturing example it could be calculated based on the number of potential sales missed. It's a little more difficult to calculate, but a number could probably be reached.
Contracting
As an entrepreneur making real estate decisions, keep liquidated damages in mind when dealing with contractors. Most contracts are too small or simple to merit such a complex negotiation. But if you are entering into a multi-million dollar deal and your success is dependent upon the performance of your contractor, you may want to consider working out a liquidated damages clause.
Brent Pace is currently an MBA candidate at University of California at Berkeley. Originally from Salt Lake City, Brent's experience is in commercial real estate development and management. Brent will have tips for small business owners as they negotiate their real estate needs.
Share this article
---
Additional Resources for Entrepreneurs