Real Estate Articles
Managing Construction
Written by Brent Pace for Gaebler Ventures
This article is to help entrepreneurs learn how to manage the construction process itself. Included are techniques to manage the construction draw process, change orders, and site meetings. In addition, managing hard vs. soft costs is discussed.
Managing construction is an important skill for entrepreneurs, especially those involved in the real estate industry itself.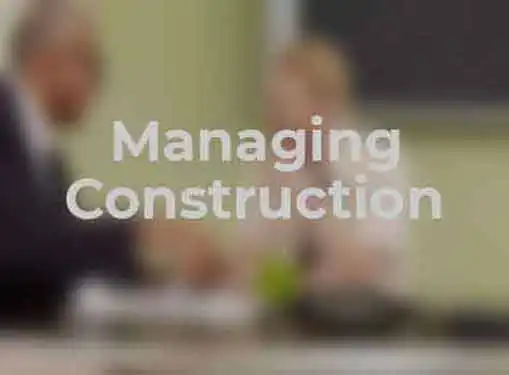 Once you have a job and you've hired a general contractor, you might think your work is done... WRONG! There is still a lot of work to do to manage this process effectively to ensure that you get your project completed on time and on budget.
Progress Meetings
The first thing you should do as you start your building project is establish weekly construction meetings. These can be brief but they serve an important purpose. When the general contractor knows he needs to report to you weekly he will be sure to keep himself on task. In the first meeting ask for a schedule or timeline for the project if you haven't done so already and it wasn't included in their contract. Make sure that the contractor notifies you immediately if anything comes up that will cause a deviation from that schedule.
Make sure that you invite any architects or engineers working on the project to attend these meetings as applicable. Getting the decision makers in the same room regularly will help solve problems as they come up. In addition, as the project is close to completion you may want to bring in other related parties. If the project is for your company, make sure you get buy-in from key players so that they're happy with what you are building.
Monthly Draws
In order to make payments, you will want to institute monthly construction draws. Most commercial jobs pay monthly with the exception of some very aggressive home builders who pay bi-monthly or even weekly. In general, however, monthly is enough.
Each month have all of the parties (general contractor, architects, engineers) submit invoices for their work completed to date. If you are uncomfortable monitoring the work yourself to make sure it is completed you can hire a 3rd party advisor to check the work against the draws to make sure they have completed everything they are requesting payment for. Be sure to hold some money back in retention (usually 5 or 10%) until all the work is completed. This is to ensure that the contractor stays on and finishes the entire job. Check your applicable State law to see how much you can withhold until completion.
As you make the draw you will fund it from equity or a construction loan. Either way be sure to separate out your hard costs (general contractor) from soft costs (architects and engineers). This is typical in the industry and will help you get your draw approved more quickly if you are working with a bank on a construction loan.
Change Order Management
As you complete draws, you will be asked to fund change orders. If the change is legitimate it should be written up and signed by all parties. This means the owner (you), the general contractor, and the applicable architects and engineers should all sign. Be sure to keep a log of all the changes. Excess changes may not be covered by your construction loan, so be sure to close the loop and communicate with your funding partner.
Hold Your Ground
As always, when managing construction be sure to hold your ground. There are lots of conflicts in construction, and you have to be willing to stick your nose into the fray to get a good deal. So keep good records, manage your project and get it done!
Brent Pace is currently an MBA candidate at University of California at Berkeley. Originally from Salt Lake City, Brent's experience is in commercial real estate development and management. Brent will have tips for small business owners as they negotiate their real estate needs.
Share this article
---
Additional Resources for Entrepreneurs