Small Business Marketing
Marketing Mix
Written by Clayton Reeves for Gaebler Ventures
The seven Ps of marketing can help your business build a simple marketing plan and take advantage of your place in the market.
Think of a marketing manager as a famous chef.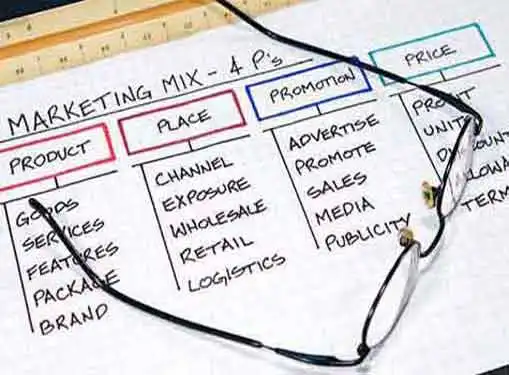 There is a delicate mix of ingredients that make the perfect entrée, just as there is a delicate mix of marketing strategies that can promote your company in the best way possible.
People are paid very well to perform these services for large corporations. However, having a good grasp of the basic principles underlying these strategies can help your small company beat out the competition.
The seven Ps of marketing provide a basic mix that can help your firm figure out how to cook the perfect cake. I'll go through each P, and how they influence the overall marketing mix.
Products
Products provide the vehicle through which a company satisfies their customers' needs. This could be either a physical product or a service. Regardless, the product includes many different parts that influence the marketing mix. Packaging, size, warranty, features and durability all influence the marketing necessary to sell the item.
Pricing
Price is the basic payment that a customer will provide for a good or service. There is a delicate balance in satisfying customer demand while also achieving company profit goals. The brand that your company creates also deals explicitly with your pricing strategy. Luxury items and necessities have contrasting pricing strategies. Matching your product with the right price is important to your marketing mix.
Place
This P involves where to make the product and how to move it. It depends on how quickly they need to get the product to their customer base, how delicate the item is and where the customers are located in relation to their manufacturing facilities.
Promotion
Advertising, selling and public relations are all facets of promotion. It is important to create awareness for the product and promotion is great way to do this. However, should a company spend too much money on promotion, they will cut into their bottom line. This is not acceptable. Therefore, it is important to balance the costs and effects of implementing an advertising strategy.
People
Depending on the nature of the product, people may need to meet with their customers face to face. Other companies may simply need to mail out some coupons or notices to keep their customers interested. Firms should know what type of product they have, and how their people need to work to communicate their marketing mix.
Process
The buying process can be very important to firms who provide services to customers. High contact products need follow up, and the efficiency of these communications can make or break the relationship. The process is very, very important in business to business marketing.
Physical Evidence
Evidence is necessary when making decisions from the jury room to the supermarket. Statistics, ratios and testimonial are all used by marketers to try and convey the message that their product is superior.
When he's not playing racquetball or studying for a class, Clayton Reeves enjoys writing articles about entrepreneurship. He is currently an MBA student at the University of Missouri with a concentration in Economics and Finance.
Share this article
---
Additional Resources for Entrepreneurs