Marketing a Bead Shop
The value and earning capacity of a bead shop largely depends on the quality of its marketing efforts. But great marketing takes a lot more than hanging a shingle and hoping for the best.
Marketing a bead shop can quickly take a wrong turn if you don't have a roadmap.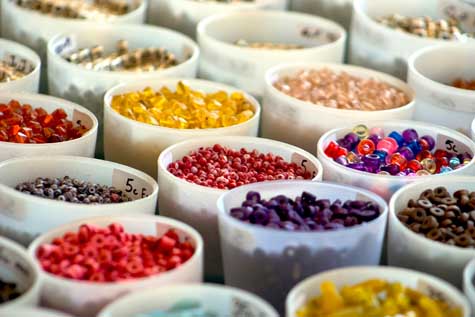 Business savvy entrepreneurs usually have a solid foundation in marketing. Unfortunately, it's takes more than a basic business mindset to achieve total market visibility. You will also have to become a student of specific marketing strategies for a bead shop.
Sponsorships
Event and team sponsorships are a proven method for raising the public profile of bead shops. The goal is to increase sales by generating visibility and goodwill about your company and/or your market offerings. But if you aren't deliberate, you can invest big bucks in sponsorships and receive little return for your investment. It's critical to accurately match your event and team sponsorships to likely bead shop patrons. To minimize costs and multiply outcomes, consider teaming up with a complementary business to co-sponsor targeted events.
Promotional Calendars
Sloppy marketing programs have no place in growing bead shops. Promotional or marketing calendars coordinate the execution of your strategy and result in a more efficient use of both internal and external resources. When used in tandem with a quality mailing list provider, promotional calendars can ensure the continuous execution of direct mail campaigns.
Industry Resources
Inexperience and a lack of industry connections have an isolating effect on owners of a bead shop. Most leaders are oblivious to the fact that the marketplace shows no favoritism - for every marketing challenge your business faces, there are hundreds of other businesses and leaders struggling to solve the same problem. Trade associations, business networks, and other venues usually offer resources to help you improve your marketing skills. If possible, establish a mentoring relationship with an experienced industry veteran.
More Articles on Marketing
Given your interest in marketing and in bead shops, you might find these additional resources to be of interest.
---
Conversation Board
The best marketing advice often comes from your peer business owners. Do you have any tips or advice on marketing a bead shop? We'd love it if you could share them by posting a comment below. What marketing initiatives have you tried and how did they work out for you?
Ready to Start Your Own Bead Shop?
For those who want to open a bead shop, here are some more appropriate better resources for you:
Do You Offer Products or Services to Bead Shops?
If you want information on how to sell to bead shops, this isn't the ideal place for you on our site. These guides are more appropriate for you:
More Marketing Tips and Advice
If you are looking for marketing advice for a different kind of business, please browse our directory of marketing guides below.
Browse more marketing resource guides: