Marketing a Blueprinting Business
It's becoming more and more difficult for blueprinting businesses to rise above the clamor of the marketplace. Innovative marketing strategies may be your best bet for out-promoting -- and outperforming -- the competition.
Marketing a blueprinting business can be challenging, especially for business owners who lack a marketing background.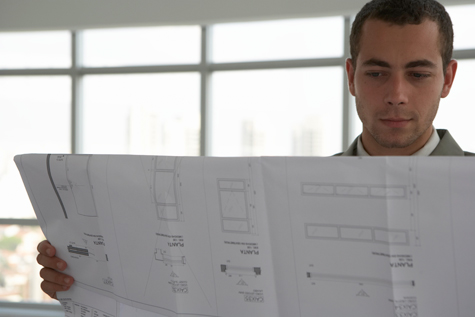 In a growth-oriented business, marketing has to be seen as a core business activity. On the upside, great marketing is a real possibility for a blueprinting business willing to adapt its strategy to the demands of the marketplace.
Staffing Expertise
Right out of the gate, you are going to have to make an informed decision about who will be responsible for marketing your product offerings and your brand. For many business owners, in-house staffing is attractive because it can (theoretically) be performed by current employees and can give the owner more control over the process. As a way to improve performance and time management, owners of blueprinting businesses outsource marketing to a professional firm. A high quality marketing firm can deliver a much better ROI than internal stakeholders who aren't primarily focused on marketing functions.
Broadcast Advertising
Broadcast advertising has clearly taken some hits over the past couple of decades. The number of consumers who tune-in to local TV and radio has plummeted, and the industry has struggled to regain its footing. However, it would be a mistake to discount broadcast advertising entirely. Many blueprinting businesses can still use it to their advantage. Best practices for the use of broadcast advertising require businesses to evaluate their target audience's listening or viewing patterns and then tailor their media purchases to specific media outlets rather than blanketing the geography with brand messaging. When marketing blueprinting businesses, local consumers may represent a sizeable portion of total revenues, making local radio and other broadcast media viable marketing channels -- but only to the extent that you match the station's audience to your customer base.
Improving Customer Loyalty
Customer loyalty provides the backbone for business growth. In growth-minded blueprinting businesses, sorted and updated mailing lists obtained from top-tier providers are effective tools for customer acquisition. To encourage customer loyalty, you'll need to tap into deliberate mechanisms that incentivize customers to reward your brand with repeat business. In many cases, online channels can be leveraged to create innovative customer loyalty programs.
More Articles on Marketing
Ready to learn more? You may find these additional resources to be of interest.
Selling a Blueprinting Business
---
Conversation Board
The art of marketing blueprinting businesses is vast. Send us your tips, advice, comments and questions, and let's continue the conversation!
Ready to Start Your Own Blueprinting Business?
For tips on how to start a blueprinting business, these resources provide helpful advice:
How to Start a Blueprinting Business


Do You Offer Products or Services to Blueprinting Businesses?
If you want information on how to sell to blueprinting businesses, this isn't the ideal place for you on our site. These guides are more appropriate for you:
Selling to Blueprinting Businesses
Mailing Lists for Blueprinting Businesses


More Guides on Marketing a Business
If you are eager to get marketing tips for a different industry, please browse our directory of marketing guides below.
Browse more marketing resource guides: