Marketing a Candy Store
Promotional tactics for candy stores are exceptionally diverse. But in our experience, there are a handful of tips and strategies that will deliver the best return for your marketing efforts.
As a business owner, it's imperative to understand that your financial metrics are inextricably linked to your marketing capacity.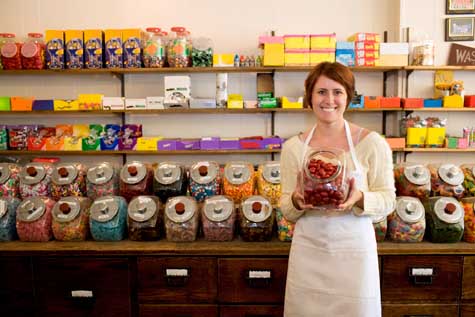 It's not hard to convince most business owners that marketing plays a vital role in strategic planning. But in a zero-sum economy, there are winners and losers -- and here are some of the things that will help keep your candy store at the top of the heap.
Customer Awareness
Most candy stores go out of their way to maintain clear channels of communication with their customers. Since disconnection with the marketplace isn't an option, it's important to create mechanisms to monitor market trends. Why? Because without a thorough understanding of buyer mindsets, it is impossible to accurately predict which tactics will deliver results. By improving market awareness, small companies can often establish more meaningful customer connections than their competitors.
Mailings
It makes sense for candy stores to participate in direct marketing. Direct mail has the advantage of delivering targeted messaging to qualified contacts within your company's market segment. Third-party providers have a reputation for generating accurate mailing lists that can be sorted to accommodate niches and subsections of the market. Are vendor-provided mailing lists worth the investment? We think so. But the real value is that the quality of the contacts contained in a premium mailing list can be the catalyst for long-term customer relationships.
Contests
Contests are a time-tested method for promoting a candy store. Although a contest won't automatically translate into higher revenue, it can be a strategic component of a comprehensive marketing plan. Even good contests carry risks, namely the possibility that your business will be dogged by allegations of unfair prize awards. Consequently, many candy stores outsource their contests to professional marketers as a way of minimizing risk and achieving the highest possible return from their promotional dollars.
Additional Marketing Advice and Related Articles
Given your interest in marketing and in candy stores, you might find these additional resources to be of interest.
---
Conversation Board
Looking for more information about how to market a candy store? If so, we want to hear from you. Send us your comments and questions, and we, along with other business owners who visit our site, will do our best to help you.
Ready to Start Your Own Candy Store?
For tips on how to start a candy store, these resources provide helpful advice:
Do You Offer Products or Services to Candy Stores?
If you consider candy stores to be sales prospects, this isn't the ideal place for you on our site. These guides are more appropriate for you:
Mailing Lists for Candy Stores


More Guides on How to Market a Company
If you are looking for marketing advice for a different kind of business, please browse our directory of marketing guides below.
Browse more marketing resource guides: