Marketing a Card Shop
Marketing a card shop can be a daunting task for new entrepreneurs. But with consumer demand on the rise, marketing skills are becoming increasingly important for card shop owners and managers.
Need to improve the effectiveness of your marketing channels for your card shop? That's becoming a common theme these days, especially in this market sector.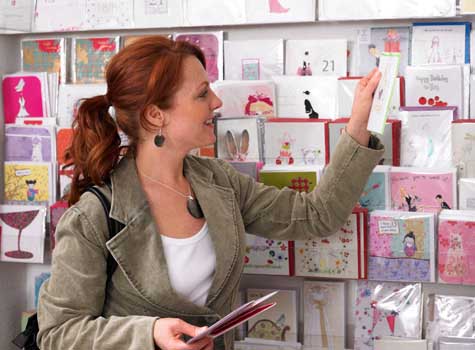 Top performers habitually integrate sound marketing concepts with market demands.
Email Campaigns
Today's consumers are extremely tech-savvy. They rely on social media and email to both receive and transmit brand messages. What does that mean for your company? It means the odds are in favor of email campaigns actually connecting with customers. For card shops, the hardest part of an email campaign is gathering the email addresses of likely customers. Premium mailing list providers can mitigate the cost and hassle of in-house list generation. More importantly, providers typically give business owner an assurance that their lists are accurate and up-to-date.
Discounts
Discounts drive purchasing decisions, and card shop consumers fit the pattern and factor discounts into their spending decisions. The power of a great discount is its ability to convince buyers that are receiving special treatment, a deal that isn't ordinarily available. Due to the market intelligence of buyers in the card shop industry, you won't get far with discounts unless you communicate clear value. For better results, consider rotating the products you discount to incentivize customers to monitor your marketing channels.
Generating Buzz
Never underestimate the value of good buzz with consumers. There are multiple ways owners can tout the benefits of their product offerings, but the most effective promotions are personal recommendations or word of mouth advertising. When you're promoting a card shop, meaningful brand conversations have the ability to transform the impact of your marketing efforts. The process begins with developing communication vehicles and mechanisms that invite discussion. Social networking and other online strategies can play a foundational role when they are performed in tandem with face-to-face interactions and industry networking.
More Articles on Marketing
Ready to learn more? You may find these additional resources to be of interest.
---
Conversation Board
For card shops, good advice can be hard to find. If you have firsthand marketing experience to share, we invite you to submit your comments below. Questions are also welcome and we will try to reply ASAP.
Do You Plan on Opening a Card Shop In the Near Future?
For those who want to open a card shop, these resources provide helpful advice:
Do You Offer Products or Services to Card Shops?
If you want information on how to sell to card shops, this isn't the ideal place for you on our site. These guides are more appropriate for you:
More Guides on Marketing a Business
If you are looking for marketing advice for a different kind of business, please browse our directory of marketing guides below.
Browse more marketing resource guides: