Marketing a Cemetery and Memorial Park Maintenance Business
Marketing plays a central role in any company. But when it comes to a cemetery maintenance business, your ability to market your brand can be the deciding factor between barely making it and achieving stellar industry success.
Still looking for a way to effectively market your cemetery maintenance business? Unfortunately, there is a fine line between capturing buyers' attention and blending into the background.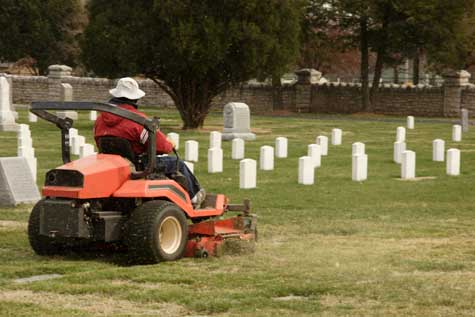 Strategic marketing tactics can help small cemetery maintenance businesses scale their visibility with consumers. What small companies lack in resources, they can make up for in marketing intelligence and expertise.
Geolocational Marketing
Have you noticed that almost everyone has a smartphone these days? Savvy marketers believe that smartphone marketing is the next big promotional trend and are investing in strategies that leverage the mobile computing power of today's consumers. Equipped with GPS components, today's smartphones give consumers the ability to perform navigation and other geolocational tasks. Since you're a cemetery maintenance business marketer, smartphone geolocation opens the door to new opportunities in brand and product promotion. Exploiting geolocational capabilities requires sophisticated tools and marketing strategies. There are many ways to influence consumers through mobile GPS. However, in its simplest form, geolocational marketing enables consumers to identify a cemetery maintenance business in their immediate area.
Generating Buzz
Never underestimate the value of good buzz with consumers. You've heard it said before: Word of mouth is the best form of promotion for products and brands. For a cemetery maintenance business, meaningful brand conversations have the ability to transform the impact of your marketing efforts. To encourage marketplace conversations, you'll need to equip consumers with the tools they need to create meaningful brand dialogues. With minimal effort, you can instigate conversations through social media and other communication vehicles favored by today's consumers.
Measurement & Evaluation
With a little more attention to details, cemetery maintenance businesses may be able to increase the impact of their marketing tactics. However, there are no substitutes for measurement and evaluation mechanisms. A robust measurement and evaluation process should include metrics that can be monitored on a monthly, weekly or even daily basis. Designed to monitor marketing efforts on a campaign-by-campaign basis, these metrics can be used as a baseline for strategic planning. Given the importance of measurement and evaluation, cemetery maintenance businesses often choose to consult with professional marketers for assessment tools and strategic insights.
Additional Marketing Advice and Related Articles
Want to learn more? Start with these recommended resources.
Selling a Cemetery and Memorial Park Maintenance Business
---
Conversation Board
For cemetery maintenance businesses, good advice can be hard to find. If you have firsthand marketing experience to share, we invite you to submit your comments below. Questions are also welcome and we will try to reply ASAP.
Ready to Start Your Own Cemetery & Memorial Park Maintenance Business?
For tips on how to start a cemetery maintenance business, here are some more appropriate better resources for you:
How to Start a Cemetery & Memorial Park Maintenance Business


Sell to Cemetery & Memorial Park Maintenance Businesses?
If you consider cemetery maintenance businesses to be sales prospects, this isn't the ideal place for you on our site. These guides are more appropriate for you:
Selling to Cemetery and Memorial Park Maintenance Businesses
Mailing Lists for Cemetery and Memorial Park Maintenance Businesses


More Marketing Tips and Advice
If you are looking for marketing advice for a different kind of business, please browse our directory of marketing guides below.
Browse more marketing resource guides: