Marketing a Dessert Business
The task of promoting a dessert business has to receive the highest priority in your organization. But what marketing techniques and strategies are successful in the current economy?
For every dessert business winner, there many more dessert businesses struggling to survive.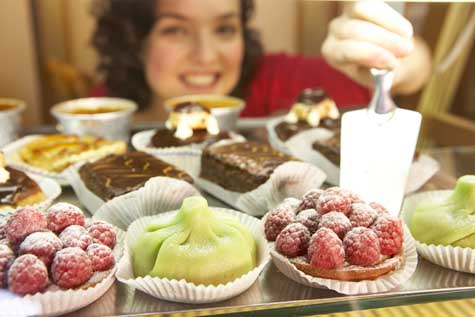 Business savvy entrepreneurs usually have a solid foundation in marketing. Unfortunately, it's takes more than a basic business mindset to achieve total market visibility. You will also have to become a student of specific marketing strategies for a dessert business.
Niche Marketing
A niche marketing approach is a good fit for small businesses, particularly dessert businesses trying to establish a larger footprint in a targeted market segment. To be effective, niche marketing requires attention to the kinds of details many businesses overlook. A keen awareness of your company's unique value proposition is a prerequisite for success in this approach.
Many companies facilitate niche marketing by providing specialty mailing lists. These lists are targeted and filtered, and deliver greater focus to your company's direct mail campaigns. Specialty mailing lists from top-rate providers take the niche concept a step further by giving you measured insights about consumer behaviors within the niche.
Price Matching
In a difficult economy, consumers expect businesses to engage in a certain amount of price matching. If they can find a similar value proposition from another dessert business, potential clients will abandon your brand in droves. Today's consumers are educated and informed. They use social media and other tools to identify the best pricing, making it imperative for small business to consider the value of a well-publicized price matching strategy.
Hiring A Marketing Firm
Eventually nearly all dessert business owners consider outsourcing their promotional and advertising functions to a professional marketing firm. Unless you have a marketing background, you won't be able to touch the ROI you'll receive from a professional firm. Does a marketing firm cost money? Sure, but not as much as you may think. When it's time to look for a marketing firm to represent your dessert business, experience should trump other considerations. Additionally, you'll want to make sure that the firm you hire is familiar with how technology is being used to forge connections with customers in your market niche.
More Articles on Marketing
Want to learn more? Start with these recommended resources.
---
Conversation Board
What challenges have you experienced in marketing your dessert business? How did you overcome those challenges? If you have practical insights about marketing, we'd like to hear from you.
Ready to Start Your Own Dessert Business?
For tips on how to start a dessert business, here are some more appropriate better resources for you:
How to Start a Dessert Business


Do You Offer Products or Services to Dessert Businesses?
If you consider dessert businesses to be sales prospects, there's more useful information for you elsewhere on our site. These guides are more appropriate for you:
Mailing Lists for Dessert Businesses


More Marketing Guides
If you are looking for marketing advice for a different kind of business, please browse our directory of marketing guides below.
Browse more marketing resource guides: