Marketing a Hair Care and Treatment Business
Looking for innovative ways to market a hair care salon? Although you there are no magic bullets that will enable you to dominate the industry, there are several things you can do to improve visibility and market presence.
If you're hoping to leverage marketing to give your hair care salon an edge over the competition you're not alone.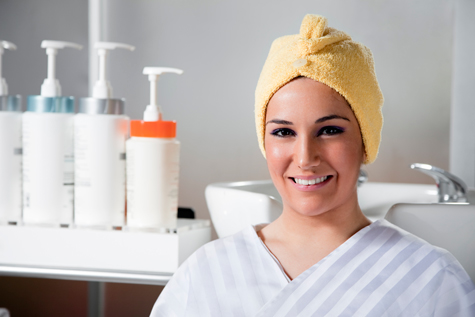 Marketing increases the brand footprint of a hair care salon using a carefully crafted mix of techniques and tactics.
Strategic Partnerships
When multiple interests join together in a strategic partnership, they gain hair care and treatment salons avenues for combining the power of their marketing dollars and messaging with suppliers of complementary products. Joint ad campaigns, mailings and other marketing initiatives can be conducted on either a short- or long-term basis, as long as each partner is involved in the creation of messaging and has approval authority over the content that is released.
Geolocational Marketing
Smartphones have added a new wrinkle to small business marketing. Equipped with GPS components, today's smartphones give consumers the ability to perform navigation and other geolocational tasks. Since you're a hair care salon owner, geolocational features can be a powerful weapon in your marketing arsenal. Exploiting geolocational capabilities requires sophisticated tools and marketing strategies. At a minimum, your business should be including on online directories that alert consumers to a hair care salon in their immediate area.
Marketing Collateral
Every piece of collateral your hair care salon creates is a tangible reflection of your brand distinctive and core values. To squeeze the most impact from your collateral, it needs to be targeted toward its recipients. Delivered to the wrong person, a valuable piece of collateral will collect dust. For direct mail campaigns, premium mailing lists from established vendors can protect the value of your investment. If you're like most business owners, you invest substantial resources in the creation of quality collateral. If you don't invest similar resources in mailing lists and other distribution channels, your hair care salon's marketing collateral will be wasted.
More Articles on Marketing
Based on your interests, we think you may find these additional resources to be of interest.
Selling a Hair Care and Treatment Business
---
Conversation Board
There's more to discuss that we can cover in a single article. If you have any additional comments or questions, please let us know. We welcome all comments, tips and questions!
Ready to Start Your Own Hair Care & Treatment Business?
For those who want to open a hair care salon, here are some more appropriate better resources for you:
How to Start a Hair Care & Treatment Business


Do You Offer Products or Services to Hair Care & Treatment Businesses?
If you consider hair care and treatment salons to be sales prospects, there's more useful information for you elsewhere on our site. These guides are more appropriate for you:
Selling to Hair Care and Treatment Businesses
Mailing Lists for Hair Care and Treatment Businesses


More Marketing Guides
If you are looking for marketing advice for a different kind of business, please browse our directory of marketing guides below.
Browse more marketing resource guides: