Marketing a Janitorial Service
You're heavily invested in the success of your janitorial service and failure isn't an option. That means you'll also need to invest yourself in the strategies and techniques it takes to effectively market your brand in the marketplace.
Novice marketers are typically unprepared for the challenge of promoting brands and products in the competitive arena.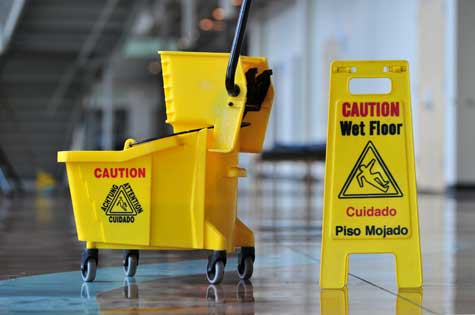 Marketing increases the brand footprint of a janitorial service using a carefully crafted mix of techniques and tactics.
Expand Your Advertising Options
Advertising options come and go. The marketing channel that was hot last year may no longer be effective and has been replaced by yet another can't miss marketing alternative. When it comes to janitorial services, dwelling in the past isn't an option. It's time to get onboard with the marketing trends that are delivering results throughout the industry. Over the past several years, janitorial services get solid marketing results from online channels capable of streaming high value content to a large, yet targeted customer base. In general, if your competitors know more about promoting their business online than you, you may lose market share.
Discounts
Discounts drive purchasing decisions, and janitorial service consumers fit the pattern and factor discounts into their spending decisions. The power of a great discount is its ability to convince buyers that are receiving special treatment, a deal that isn't ordinarily available. However, for consumers located in the janitorial service sector, you won't get far with discounts unless you communicate clear value. For better results, consider rotating the products you discount to incentivize customers to monitor your marketing channels.
ROI
Good marketing is expensive. You can't afford to waste money on ineffective tactics for your janitorial service.
Professional mailing lists improve ROI even further. Vendors can filter your lists to likely buyers, reducing mailing costs and increasing the impact of your direct mail campaigns.
More Articles on Marketing
Given your interest in marketing and in janitorial services, you might find these additional resources to be of interest.
Creating an Effective Marketing Strategy
---
Conversation Board
Good advice often comes from your peer business owners. Do you have any tips or advice on marketing a janitorial service? We'd love it if you could share them by posting a comment below. What marketing initiatives have you tried and how did they work out for you?
Considering Starting a Janitorial Service?
For tips on how to start a janitorial service, here are some more appropriate better resources for you:
Do You Offer Products or Services to Janitorial Services?
If you want information on how to sell to janitorial services, there's more useful information for you elsewhere on our site. Try these instead:
Selling to Janitorial Services
Mailing Lists for Janitorial Services


More Guides on How to Market a Company
If you are eager to get marketing tips for a different industry, please browse our directory of marketing guides below.
Browse more marketing resource guides: