Marketing a Japanese Restaurant
Marketing a Japanese restaurant isn't as simple as it seems. To get noticed, you'll need to invest time, energy, and resources in an innovative marketing plan.
In the current economic climate, one thing separates thriving Japanese restaurants from companies at the bottom of the food chain.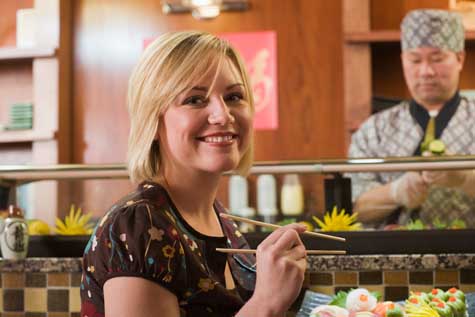 Strategic marketing tactics can help small Japanese restaurants scale their visibility with consumers. Though small organizations may not have the marketing budgets of large corporations, the consistent delivery of targeted messaging has a cumulative effect on the market's consciousness.
Coupons
Although they have traditionally been associated with a handful of industries, coupons are viable resources for Japanese restaurant advertising. Percentage discounts, volume discounts, and bundling offers are standard coupon fare. In a typical coupon scenario, Japanese restaurant owners leverage couponing to entice first-time customers to make initial contact with the brand. To improve the impact of your campaigns, routinely monitor local online and offline marketing channels to learn about the types of coupon offers that are common in your geography.
Make Sure You Have a Good Business Sign
Good signage is a Business 101 concept. Despite the fact that Japanese restaurants are very different from each other, signage can be used by any Japanese restaurant to communicate the company's value to their customers. Visibility, branding elements and other considerations are all factors in the design and size of your operation's business signage.
Given the fact that signage in Japanese restaurants has to fulfill a number of special requirements, avoid glossing it over as an afterthought. Talk with somebody who knows a lot about business signage advice and get their input before you create new business signs.
Email Campaigns
How many people do you know who don't have an email account? Not many. So if you can deliver messaging to your customers' inboxes, the likelihood it will be seen and read by a large percentage of recipients is extremely high. In many Japanese restaurants, the hardest part of an email campaign is gathering the email addresses of likely customers. Premium mailing list providers can mitigate the cost and hassle of in-house list generation. More importantly, providers typically give business owner an assurance that their lists are accurate and up-to-date.
More Marketing Tips and Related Articles
Based on your interests, we think you may find these additional resources to be of interest.
---
Conversation Board
Did we forget to any good ideas on marketing a Japanese restaurant? If so, tell us about your marketing experiences. What has worked for you? What didn't work at all?
Ready to Start Your Own Japanese Restaurant?
For tips on how to start a Japanese restaurant, here are some more appropriate better resources for you:
Starting a Japanese Restaurant


Do You Offer Products or Services to Japanese Restaurants?
If you consider Japanese restaurants to be sales prospects, this isn't the ideal place for you on our site. Try these instead:
Selling to Japanese Restaurants
Mailing Lists for Japanese Restaurants


More Marketing Guides
If you are looking for marketing advice for a different kind of business, please browse our directory of marketing guides below.
Browse more marketing resource guides: