Marketing a Jewelry Appraisers Business
It's becoming more and more difficult for jewelry appraisal businesses to rise above the clamor of the marketplace. Innovative marketing strategies may be your best bet for out-promoting -- and outperforming -- the competition.
For every jewelry appraisal business winner, there many more jewelry appraisal businesses struggling to survive.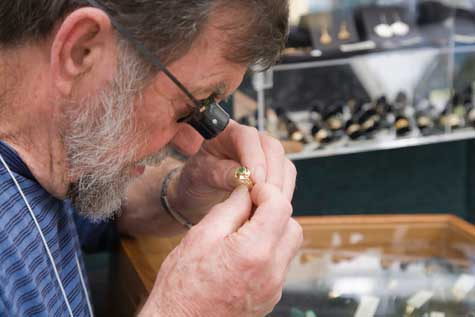 Healthy customer relationships are strengthened and expanded through targeted marketing campaigns. With that in mind, it's important to leverage marketing as a path toward better customer engagement in your jewelry appraisal business's planning process.
Cost Tracking
The economy is a constant concern for people who own a jewelry appraisal business. When businesses buy mailing lists, they expect a return for their investment. Unfortunately, they don't always get it. More often than not, you'll get a better ROI from highly rated list providers than you will from cheaper alternatives. Companies that rely on accurate mailing lists reduce time spent chasing down stale leads.
Another way to control costs is to conduct periodic across-the-board cost audits designed to highlight areas that are ripe for reductions.
Product Knowledge
Product knowledge is a fundamental requirement for marketing a jewelry appraisal business. Whether you outsource marketing or handle it in-house, the more familiar marketing personnel are with your products' distinctive characteristics, the easier it will be to devise marketing strategies that differentiate your jewelry appraisal business in the marketplace. If necessary, conduct product information meetings before launching a major marketing initiative.
Company Website
Technology is changing the way small businesses market their products and brands. The on-ramp for using technology to promote your jewelry appraisal business is also the anchor point for your technological strategy: A company website. Although many businesses have a website, a poorly designed and unnavigable website is worse than having no web presence at all. Your site is a representation of your business; it needs to convey the same professional appearance and functionality as you expect from any other sales and marketing asset. When combined with social media marketing, a first-rate website makes it easy for customers to share detailed information about your products with their online communities.
Additional Marketing Advice and Related Articles
Given your interest in marketing and in jewelry appraisal businesses, you might find these additional resources to be of interest.
Selling a Jewelry Appraisers Business
---
Conversation Board
Looking for more information about how to market a jewelry appraisal business? If so, we want to hear from you. Send us your comments and questions, and we, along with other business owners who visit our site, will do our best to help you.
Ready to Start Your Own Jewelry Appraisers Business?
For tips on how to start a jewelry appraisal business, here are some more appropriate better resources for you:
How to Start a Jewelry Appraisers Business


Do You Offer Products or Services to Jewelry Appraisers Businesses?
If you want information on how to sell to jewelry appraisal businesses, this isn't the ideal place for you on our site. These guides are more appropriate for you:
Selling to Jewelry Appraisers Businesses
Mailing Lists for Jewelry Appraisers Businesses


More Marketing Guides
If you are looking for marketing advice for a different kind of business, please browse our directory of marketing guides below.
Browse more marketing resource guides: