Marketing a Juice Bar
Marketing plays a central role in any company. But when it comes to a juice bar, your ability to market your brand can be the deciding factor between barely making it and achieving stellar industry success.
Although innovation is important, consistency is critical when you market a juice bar. In this industry, the application of fundamental marketing tactics is more valuable than promotional fads and gimmicks.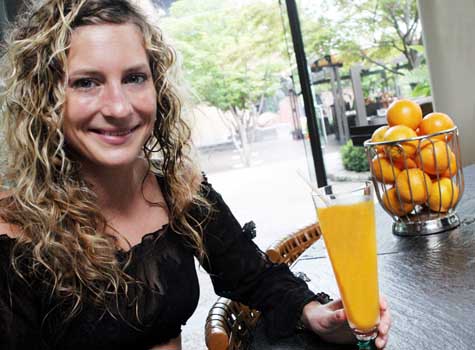 Messaging that relies on outdated delivery channels is often a waste of time and resources. Effective marketing now means translating market learnings into techniques and tactics that are relevant to your business.
Marketing Expertise
Don't have a background in marketing? That shouldn't stop you from taking a larger promotional role in your company by educating yourself about today's most effective marketing concepts. Entrepreneurs and leaders of juice bars need to make every dollar count, especially when it comes to their marketing budgets. When in doubt, tap into either an internal or external knowledge base to design your company's marketing strategy.
Promotional Calendars
The best laid marketing agendas can quickly get fouled up, especially in fast-paced juice bars. Instead of offering special promotions on the spur of the moment, we recommend creating a promotional calendar for the fiscal year. Although you can adjust the calendar as needed, advanced planning makes it easier to connect your company's marketing tactics to sales objectives, inventory levels, staffing, and other areas of the business. Many list vendors appreciate promotional calendars because they are useful for timing the delivery of the resources your business needs to meet strategic objectives.
Bundling
Messaging matters - but only to the degree that it communicates value to cost-conscious consumers. Businesses that bundle products tap into the market's psyche by creating the perception (real or imagined) of cost-savings. Most juice bars can leverage bundling to improve sales and attract new customers to the brand. Often, bundling is used to offload excess inventory or to pair a low profit product with one that has a higher markup.
More Marketing Tips and Related Articles
Given your interest in marketing and in juice bars, you might find these additional resources to be of interest.
---
Conversation Board
Looking for more information about how to market a juice bar? If so, we want to hear from you. Send us your comments and questions, and we, along with other business owners who visit our site, will do our best to help you.
Ready to Start Your Own Juice Bar?
For those who want to open a juice bar, here are some more appropriate better resources for you:
Do You Offer Products or Services to Juice Bars?
If you consider juice bars to be sales prospects, this isn't the ideal place for you on our site. Try these instead:
More Marketing Guides
If you are looking for marketing advice for a different kind of business, please browse our directory of marketing guides below.
Browse more marketing resource guides: