Marketing a Nail Salon
Marketing a nail salon isn't as simple as it seems. To get noticed, you'll need to invest time, energy, and resources in an innovative marketing plan.
If you're hoping to leverage marketing to give your nail salon a competitive advantage you're not alone.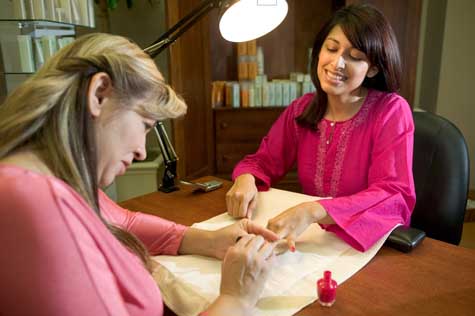 A robust marketing plan cements your company's relationships with customers. With that in mind, it's important to leverage marketing as a path toward better customer engagement in your nail salon's planning process.
Newsletters
Despite the unrelenting demands of generating content on a monthly or quarterly basis, a company newsletter has promising potential as a marketing device. Unlike flyers and other advertising mediums, newsletters have an informational focus. In fact, the best newsletters encourage customers to take the next step without ever asking for a sale. These days, nail salons to distribute newsletters through online channels (e.g. in email campaigns and as PDFs on the company website).
Managing Negative Publicity
Not sure how to handle negative PR? You're not alone. It's a probably faced by many nail salons. The worst way to handle negative buzz is to put off developing a response until reporters are pounding on your door, demanding a comment from a company spokesperson. At Gaebler, we advise our business partners to have an updated crisis response plan in place at all times. Mailing list providers can also provide quick access to accurate mailing lists, an important consideration if your crisis response plan contains a direct mail component.
When It's Time to Rebrand
There are many reasons why it might be time to begin a rebranding initiative - but a lack of alternative tactics is not one of them. The most successful rebranding initiatives are the culmination of a deliberate process. In a nail salon, brands are tied to specific stages in the life of a business. If your company is expanding, you will inevitably outgrow your brand and it will be time to prepare for a comprehensive rebranding effort. With the help of a professional marketing firm, you can give your brand a fresh face while maintaining brand distinctives and brand recognition.
Additional Marketing Advice and Related Articles
Given your interest in marketing and in nail salons, you might find these additional resources to be of interest.
---
Conversation Board
What tactics have you used to market your nail salon? We enjoy getting feedback and questions from you. Please post your thoughts below.
Do You Plan on Opening a Nail Salon In the Near Future?
For tips on how to start a nail salon, here are some more appropriate better resources for you:
Opening a Nail Salons & Manicure Business


Do You Offer Products or Services to Nail Salons?
If you consider nail salons to be sales prospects, this isn't the ideal place for you on our site. Try these instead:
More Marketing Guides
If you are eager to get marketing tips for a different industry, please browse our directory of marketing guides below.
Browse more marketing resource guides: