Marketing a Physical Therapy Business
Small and medium size physical therapy businesses can compete and even outperform larger competitors. All it takes is the right marketing plan.
A single characteristic divides today's best physical therapy businesses from companies at the bottom of the food chain.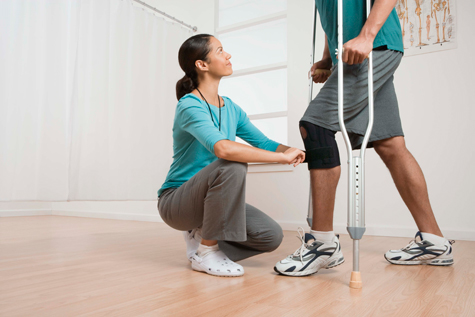 What to know the characteristics that distinguish leading physical therapy businesses from other businesses in the industry? Surprisingly, the ability to create clear brand messages often outweighs product quality and other considerations.
Technological Expertise
The PR and marketing community has embraced technology with open arms, transforming basic marketing concepts into sophisticated, tech-driven systems and solutions. The consequence for physical therapy businesses is the use of technological solutions to connect with customers, boost visibility and exploit weaknesses in the marketplace. Despite the initial cost associated with many technological solutions, the long-term payoff for the right technologies almost always outweighs the upfront expense.
Geolocational Marketing
Smartphones have added a new wrinkle to small business marketing. With little or no effort, users can transform their mobile device into a highly functional tool for location and navigation. Since you're a physical therapy business marketer, geolocational features can be a powerful weapon in your marketing arsenal. Geolocational marketing is an emerging trend. It's difficult (if not impossible) for small businesses to get in on the action without the assistance of a marketing firm that is experienced in creating mobile-based marketing strategies. Although cutting edge marketers are tailoring promotional messaging based on the viewer's current location, it may be enough to explore ways for consumers to be made aware of the presence of a physical therapy business that is closest to their present location.
Marketing Ethics
Ethically challenged marketers are a dime a dozen in today's economy. Successful physical therapy businesses avoid marketing tactics that exploit their customers. If direct mail is part of your marketing mix, you should also make sure your mailing list provider adheres to ethical standards in the collection of contact information. Premier vendors are safe bets since they have established themselves as reputable mailing list providers.
More Articles on Marketing
We would like to share these additional resources with you.
Selling a Physical Therapy Business


---
Conversation Board
Do you have any more tips about marketing physical therapy businesses? If so, submit your comments and suggestions so other business owners can learn from your experience.
Ready to Start Your Own Physical Therapy Business?
For tips on how to start a physical therapy business, here are some more appropriate better resources for you:
Opening a Physical Therapy Business


Sell to Physical Therapy Businesses?
If you consider physical therapy businesses to be sales prospects, there's more useful information for you elsewhere on our site. These guides are more appropriate for you:
Selling to Physical Therapy Businesses
Mailing Lists for Physical Therapy Businesses


More Marketing Guides
If you are looking for marketing advice for a different kind of business, please browse our directory of marketing guides below.
Browse more marketing resource guides: