Marketing a Roadside Assistance Business
You're heavily invested in the success of your roadside assistance business and failure isn't an option. That means you'll also need to invest yourself in the strategies and techniques it takes to effectively market your brand in the marketplace.
Novice marketers are typically unprepared for the challenge of promoting brands and products in the competitive arena.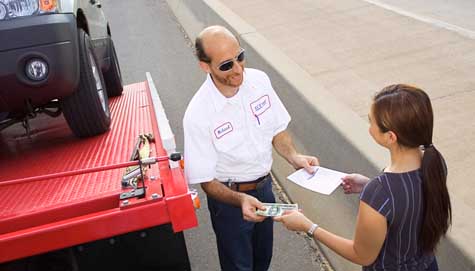 It's not hard to convince most business owners that marketing plays a vital role in strategic planning. With marketing pressure at an all-time high, your business needs to incorporate tactics designed to position a roadside assistance business ahead of the competition.
Company Website
Without the right technological tools, your business is on the fast track to failure. The technological entry point for your roadside assistance business is also the anchor point for your technological strategy: A company website. Although many businesses have a website, a poorly designed and unnavigable website is worse than having no web presence at all. Your site is a representation of your business; it needs to convey the same professional appearance and functionality as you expect from any other sales and marketing asset. Conversion paths are also important. With the proper design, your site can walk new visitors through a series of decisions that culminate with either an online sale, a phone order, a personal visit or a request for more information.
Marketing Consultants
As a small business owner, it's tempting to think that you have what it takes to market your brand effectively. Maybe you do. But in our experience, there is no substitute for enlisting the services of a qualified marketing consultant. The best consultants possess a range of skills, including the ability to accurately communicate your roadside assistance business' most important brand characteristics. Without the presence of an experienced professional, it's easy to miss opportunities in the marketplace and focus your efforts on outdated tactics. Since there is no reason to believe that marketing will become any less important in the roadside assistance business arena, exposing your strategy to the influence of capable marketing professional should be a top priority.
Managing Negative Publicity
Not sure how to handle negative PR? You're not alone. It's a probably faced by many roadside assistance businesses. The worst way to handle negative buzz is to put off developing a response until reporters are pounding on your door, demanding a comment from a company spokesperson. PR savvy roadside assistance businesses work with consultants to develop a crisis response plan that can be executed on a moment's notice. Mailing list providers can also provide quick access to accurate mailing lists, an important consideration if your crisis response plan contains a direct mail component.
More Articles on Marketing
Given your interest in marketing and in roadside assistance businesses, you might find these additional resources to be of interest.
Selling a Roadside Assistance Business
Creating an Effective Marketing Strategy


---
Conversation Board
Is there something we didn't cover? We're always interested in hearing about new strategies for marketing to roadside assistance businesses, and we welcome your feedback, tips, and questions!
Do You Plan on Opening a Roadside Assistance Business In the Near Future?
For tips on how to start a roadside assistance business, here are some more appropriate better resources for you:
Opening a Roadside Assistance Business


Do You Offer Products or Services to Roadside Assistance Businesses?
If you want information on how to sell to roadside assistance businesses, this isn't the ideal place for you on our site. These guides are more appropriate for you:
Selling to Roadside Assistance Businesses
Mailing Lists for Roadside Assistance Businesses


More Marketing Tips and Advice
If you are eager to get marketing tips for a different industry, please browse our directory of marketing guides below.
Browse more marketing resource guides: