Marketing a Soccer Business
You're heavily invested in the success of your soccer business and failure isn't an option. That means you'll also need to invest yourself in the strategies and techniques it takes to effectively market your brand in the marketplace.
Small-mindedness has no place in great marketing. In fact, a strong marketing strategy can give a small business high visibility in the marketplace.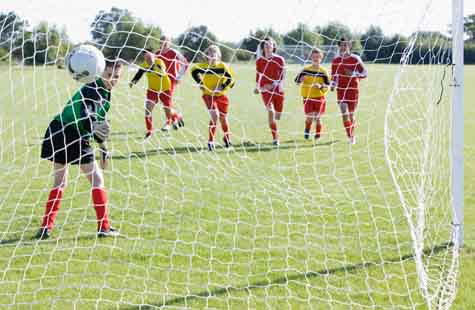 It's not hard to convince most business owners that marketing plays a vital role in strategic planning. With marketing pressure at an all-time high, your business needs to incorporate tactics designed to position a soccer business at the top of the heap.
Loss Leaders
The majority of soccer businesses understand that more customers will walk through the door if a few products are priced at less than full retail value. Moreover, a loss leader marketing strategy can compensate for dead periods when customers tend to making purchases. But to be effective, loss leader marketing requires planning, especially in product selection and price points. For soccer businesses, the real benefits of loss leaders emerge through the careful marketing of other products, usually offered at a much higher margin. With adequate preparation, a loss leader promotion can be publicized through all of your company's marketing channels, including the company website.
Marketing Collateral
Every piece of collateral your soccer business creates is a tangible reflection of your brand distinctive and core values. To squeeze the most impact from your collateral, it needs to be targeted toward its recipients. Delivered to the wrong person, a valuable piece of collateral will collect dust. For direct mail campaigns, premium mailing lists from established vendors can protect the value of your investment. It doesn't make sense to invest time and creativity in marketing collateral only to drop the ball on distribution. Without proper attention to distribution details, your soccer business's brochures, direct mail letters and other content has no value.
Product Knowledge
There is no substitute for being able to speak convincingly about your products in a soccer business. Small product details translate into key value propositions which are critical for distinguishing a soccer business from the rest of the field. If you can't articulate your products' unique characteristics, your messaging - and revenue stream - will suffer.
More Articles on Marketing
Based on your interests, we think you may find these additional resources to be of interest.
---
Conversation Board
Did you find our tips for marketing a soccer business to be useful? Is there anything we forgot to mention? If so, we would love to hear your comments, questions and tips on this topic.
Ready to Start Your Own Soccer Business?
For tips on how to start a soccer business, here are some more appropriate better resources for you:
How to Start a Soccer Business


Do You Offer Products or Services to Soccer Businesses?
If you consider soccer businesses to be sales prospects, this isn't the ideal place for you on our site. Try these instead:
Mailing Lists for Soccer Businesses


More Marketing Guides
If you are eager to get marketing tips for a different industry, please browse our directory of marketing guides below.
Browse more marketing resource guides: