Marketing a Video Arcades and Internet Gaming Centers Business
Trying to market a video arcades and internet gaming center? It's a crowded marketplace, but with dedication and persistence, great marketing can help your business outperform larger competitors.
Marketing a video arcades and internet gaming center can quickly take a wrong turn if you don't have a roadmap.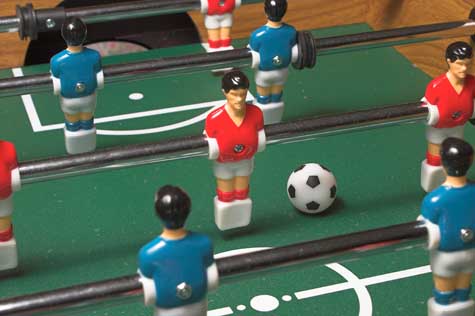 The marketplace is constantly shifting to accommodate consumer demand and that means businesses need to adapt their marketing requirements accordingly. More than ever before, foundational marketing concepts have become the bedrock upon which successful marketing strategies are constructed.
Expand Your Advertising Options
Take a look around the industry. Chances are, you'll see companies using a vast array of advertising vehicles to communicate brand messages. But for video arcades, the challenge is identifying the advertising solutions that are appropriate for your customers and consistent with your marketing goals. These days, video arcades are achieving impressive success rates with online advertising strategies. Online advertising has the advantage of delivering cost-effective messaging to a highly segmented customer base.
Loss Leaders
Like many businesses, video arcades understand that more customers will walk through the door if a few products are priced at less than full retail value. When applied skillfully, a loss leader marketing strategy can lead to overall gains in revenue. But to be effective, loss leader marketing requires planning, especially in product selection and price points. For the majority of video arcades, loss leaders substantially increase customer traffic and create opportunities to expose new consumers to the brand. With adequate preparation, a loss leader promotion can be publicized through all of your company's marketing channels, including the company website.
Niche Marketing
Niche marketing is strategy that focuses on a subsection of the larger market. This can be especially useful for video arcades that need to be profitable in a small slice of the market. Niche marketing isn't new. It's been around for years and has proven to be most effective for firms that understand their key strengths and core audience.
Many companies facilitate niche marketing by providing specialty mailing lists. These lists are targeted and filtered, and deliver greater focus to your company's direct mail campaigns. Specialty mailing lists from top-rate providers take the niche concept a step further by giving you measured insights about consumer behaviors within the niche.
More Marketing Tips and Related Articles
Ready to learn more? You may find these additional resources to be of interest.
Selling a Video Arcades and Internet Gaming Centers Business
---
Conversation Board
Did you find our tips for marketing a video arcades and internet gaming center to be useful? Is there anything we forgot to mention? If so, we would love to hear your comments, questions and tips on this topic.
Ready to Start Your Own Video Arcades & Internet Gaming Center?
For tips on how to start a video arcades and internet gaming center, these resources provide helpful advice:
Sell to Video Arcades & Internet Gaming Centers?
If you want information on how to sell to video arcades, this isn't the ideal place for you on our site. Try these instead:
Selling to Video Arcades and Internet Gaming Centers Businesses
Mailing Lists for Video Arcades and Internet Gaming Centers Businesses


More Guides on Marketing a Business
If you are looking for marketing advice for a different kind of business, please browse our directory of marketing guides below.
Browse more marketing resource guides: