Marketing a Women's Shoe Store
Marketing a women's shoe store isn't as simple as it seems. To get noticed, you'll need to invest time, energy, and resources in an innovative marketing plan.
Marketing is much more than classified ads, business cards, and brochures.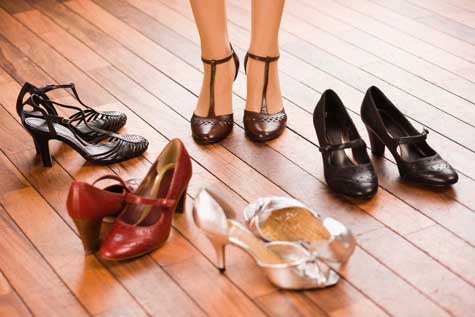 Top performers habitually integrate sound marketing concepts with market demands.
Marketing Expertise
Don't have a background in marketing? That shouldn't stop you from taking a larger promotional role in your company by educating yourself about today's most effective marketing concepts. Owners of women's shoe stores need to make every dollar count, especially when it comes to their marketing budgets. Although a learning-by-doing approach is typical in this industry, we advise young marketers to seek the input of experienced professionals before committing time and resources to untested marketing concepts.
Improving Customer Loyalty
Customer loyalty provides the backbone for business growth. In growth-minded women's shoe stores, sorted and updated mailing lists obtained from top-tier providers are effective tools for customer acquisition. However, customer acquisition will only get you so far. To achieve revenue growth, you'll need to combine customer acquisition channels with strategies and mechanisms designed to transform new customers into followers and hopefully, brand advocates.
Viral Marketing
There isn't a simple formula for launching a viral marketing campaign. By including viral elements in a campaign for a women's shoe store, you ultimately have to cross your fingers and hope for the best. But despite the risk, viral marketers can influence the likelihood of success. One strategy is to launch a viral marketing initiative by inviting a select group of customers to test your products and post their experiences on their social networking pages.
More Articles on Marketing
We would like to share these additional resources with you.
---
Conversation Board
Did you find our tips for marketing a women's shoe store to be useful? Is there anything we forgot to mention? If so, we would love to hear your comments, questions and tips on this topic.
Considering Starting a Women's Shoe Store?
For tips on how to start a women's shoe store, these resources provide helpful advice:
Do You Offer Products or Services to Women's Shoe Stores?
If you consider women's shoe stores to be sales prospects, this isn't the ideal place for you on our site. These guides are more appropriate for you:
Selling to Women's Shoe Stores
Mailing Lists for Women's Shoe Stores


More Guides on How to Market a Company
If you are looking for marketing advice for a different kind of business, please browse our directory of marketing guides below.
Browse more marketing resource guides: