Marketing a Yogurt Shop
You're heavily invested in the success of your yogurt shop and failure isn't an option. That means you'll also need to invest yourself in the strategies and techniques it takes to effectively market your brand in the marketplace.
If you are a business leader who sees marketing as a path to give your yogurt shop a competitive advantage you're not alone.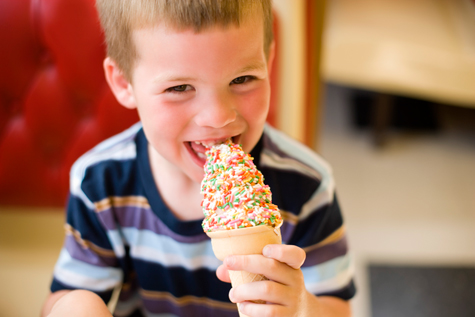 Business savvy entrepreneurs usually have a solid foundation in marketing. Unfortunately, it's takes more than a basic business mindset to achieve total market visibility. You will also have to become a student of specific marketing strategies for a yogurt shop.
Marketing Expertise
Don't have a background in marketing? That shouldn't stop you from taking a larger promotional role in your company by educating yourself about today's most effective marketing concepts. Entrepreneurs and leaders of yogurt shops are usually hesitant to engage in high-risk marketing. Since inexperience raises the risk level, the quality of the marketer is just as important as the quality of the message. Although a learning-by-doing approach is typical in this industry, we advise young marketers to seek the input of experienced professionals before committing time and resources to untested marketing concepts.
Broadcast Advertising
Broadcast advertising has clearly taken some hits over the past couple of decades. The number of consumers who tune-in to local TV and radio has plummeted, and the industry has struggled to regain its footing. However, it would be a mistake to discount broadcast advertising entirely. Many yogurt shops are leveraging broadcast media to perform specific aspects of their marketing strategies. Best practices for the use of broadcast advertising require businesses to evaluate their target audience's listening or viewing patterns and then tailor their media purchases to specific media outlets rather than blanketing the geography with brand messaging. When marketing yogurt shops, the target audience is almost always local or regional. For broader reach, you'll likely need to look beyond broadcast venues and explore other online and offline marketing vehicles.
Cost Tracking
The economy is a constant concern for people who own a yogurt shop. You can't afford to waste money on inferior marketing resources. Since every dollar counts, it pays to buy mailing lists from trusted vendors. A solid mailing list minimizes the risks associated with stale leads or leads that fall outside of your marketing parameters.
Another way to control costs is to conduct periodic across-the-board cost audits designed to highlight areas that are ripe for reductions.
More Articles on Marketing
Given your interest in marketing and in yogurt shops, you might find these additional resources to be of interest.
---
Conversation Board
For yogurt shops, good advice can be hard to find. If you have firsthand marketing experience to share, we invite you to submit your comments below. Questions are also welcome and we will try to reply ASAP.
Do You Plan on Opening a Yogurt Shop In the Near Future?
For tips on how to start a yogurt shop, here are some more appropriate better resources for you:
Do You Offer Products or Services to Yogurt Shops?
If you consider yogurt shops to be sales prospects, this isn't the ideal place for you on our site. These guides are more appropriate for you:
Mailing Lists for Yogurt Shops


More Marketing Guides
If you are looking for marketing advice for a different kind of business, please browse our directory of marketing guides below.
Browse more marketing resource guides: