Marketing an Amusement and Theme Park
The value and earning capacity of an amusement and theme park largely depends on the quality of its marketing efforts. But great marketing takes a lot more than hanging a shingle and hoping for the best.
A snazzy logo, glossy brochure and must-have brand merchandise mean nothing apart from a robust marketing strategy.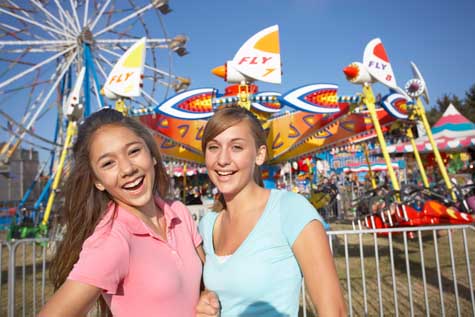 Tenacious messaging and the identification of new delivery channels can be an on ramp to amusement and theme park profitability.
Why Branding Matters
Branding isn't just a marketing buzzword. It's a core concept for businesses trying to entrench themselves in consumer consciousness. Any and every amusement and theme park is a brand. Some brands struggle to achieve recognition with consumers while others seem to be quickly embraced by the marketplace. Companies that incorporate brand positioning into their normal marketing routines gradually accumulate higher brand values and are rewarded by consumers.
Social Media Monitoring
The use of social media as a marketing tool is the latest wave to overtake the small business community. Combined with a functional company website, social media attracts new customers and converts them to brand advocates. However, social media also has a dark side -- negative mentions. All amusement and theme parks are especially vulnerable to negative exposure through social media. If your brand is taking a hit from negative mentions, it's important to generate enough positive content to push negative mentions down in search rankings. The more positive mentions that exist, the more difficult it is for negative comments (generated through social media) to gain traction on search engines like Google and Yahoo.
Public Relations Strategies
Public relations is more subtle, but no less powerful than a full-blown marketing push. For example, if you buy a premium mailing list and use it to conduct a direct mail campaign, that's marketing. On the other hand, if the Sunday paper runs a story about your amusement and theme park, that's PR. The key to effective PR is to use nuanced messaging to attract the attention of reporters and media representatives. If reporters smell promotional content, they will back off from the story or create their own narrative.
More Articles on Marketing
Given your interest in marketing and in amusement and theme parks, you might find these additional resources to be of interest.
Selling an Amusement and Theme Park


---
Conversation Board
Did we forget to any good ideas on marketing a amusement and theme park? If so, tell us about your marketing experiences. What has worked for you? What didn't work at all?
Do You Plan on Opening an Amusement & Theme Park In the Near Future?
For tips on how to start an amusement and theme park, here are some more appropriate better resources for you:
Starting an Amusement & Theme Park


Do You Offer Products or Services to Amusement & Theme Parks?
If you consider amusement and theme parks to be sales prospects, there's more useful information for you elsewhere on our site. These guides are more appropriate for you:
Selling to Amusement and Theme Parks
Mailing Lists for Amusement and Theme Parks


More Marketing Guides
If you are looking for marketing advice for a different kind of business, please browse our directory of marketing guides below.
Browse more marketing resource guides: