Marketing an Art Consulting Firm
The task of promoting an art consulting firm has to receive the highest priority in your organization. But what marketing techniques and strategies are successful in the current economy?
Marketing an art consulting firm can be challenging, especially for business owners who lack a marketing background.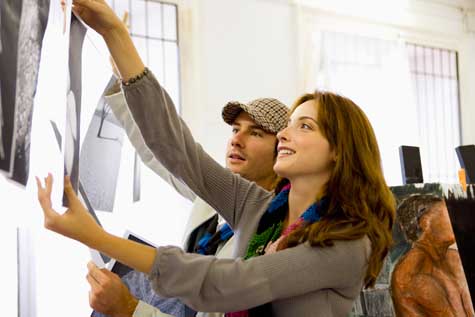 Strategic marketing tactics can help small art consulting firms stand toe-to-toe with the rest of the market. Though small organizations may not have the marketing budgets of large corporations, the consistent delivery of targeted messaging has a cumulative effect on the market's consciousness.
Media Monitoring
Some marketing initiatives lend themselves to simple measurement while others are more challenging. Direct mail can be evaluated by tallying the cost of inputs (e.g. a premium mailing list, printing, postage, etc.) and measuring the number of customer responses you receive from the campaign. But how do you go about measuring your brand's marketing footprint in geographic and demographic sectors? Fortunately, media monitoring has the ability to give your art consulting firm a sense of market presence and other variables that are difficult to quantify. If executed properly, media monitoring can help your brand get ahead of negative messaging and exert greater influence over news cycles.
Strategic Partnerships
When multiple interests join together in a strategic partnership, they gain art consulting firms economies of scale, not to mention a larger promotional footprint. Joint ad campaigns, mailings and other marketing initiatives can be conducted on either a short- or long-term basis, as long as each partner is involved in the creation of messaging and has approval authority over the content that is released.
Directories
Directories are a common tool for finding an art consulting firm. Yellow pages, industry listings, online databases, and other directory options are routinely used as vehicles for promoting art consulting firms in a region or territory. Although there are plenty of free directory opportunities out there, some directories charge a fee to include your business in their listing. Do your research and make sure any directory in which you list your business is capable of reaching enough likely customers to make it worth the effort. Some directories may also let you list more than your name and contact information, so be sure to ask whether your listing can include a logo and other information about your business.
Additional Marketing Advice and Related Articles
Want to learn more? Start with these recommended resources.
Selling an Art Consulting Firm
---
Conversation Board
Still have questions about marketing a art consulting firm? Excellent! We always welcome feedback and we'll do our best to respond to inquiries about how you can improve your company's marketing.
Ready to Start Your Own Art Consulting Firm?
For those who want to open an art consulting firm, these resources provide helpful advice:
How to Start an Art Consulting Firm


Do You Offer Products or Services to Art Consulting Firms?
If you consider art consulting firms to be sales prospects, this isn't the ideal place for you on our site. These guides are more appropriate for you:
Selling to Art Consulting Firms
Mailing Lists for Art Consulting Firms


More Guides on Marketing a Business
If you are looking for marketing advice for a different kind of business, please browse our directory of marketing guides below.
Browse more marketing resource guides: