Marketing an Art Studio
Marketing an art studio can be a daunting task for new entrepreneurs. But with consumer demand on the rise, marketing skills are becoming increasingly important for art studio owners and managers.
Still looking for a way to effectively market your art studio? Unfortunately, there is a fine line between capturing buyers' attention and blending into the background.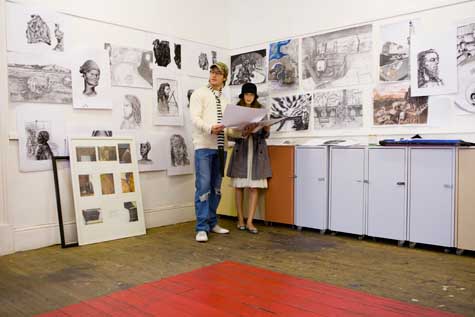 Top performers habitually integrate sound marketing concepts with market demands.
Newsletters
Newsletters can pack a promotional punch. How? By subtly using information to promote the benefits of your products and services. We've seen a lot of company newsletters over the years, and the best ones use a thought leadership strategy to advance key value propositions and raise the company's profile as a dominant presence in the industry. It's not unusual for art studios to distribute newsletters through online channels (e.g. in email campaigns and as PDFs on the company website).
When It's Time to Rebrand
There are many reasons why it might be time to begin a rebranding initiative - but a lack of alternative tactics is not one of them. The most successful rebranding initiatives are the culmination of a deliberate process. In an art studio, owners are often inspired to rebrand after analysis has demonstrated that the current brand is losing its impact in the marketplace. If rebranding is unavoidable, it's important to update the brand while maintaining the elements that make it recognizable to consumers.
ROI
Good marketing is expensive. You can't afford to waste money on ineffective tactics for your art studio.
Professional mailing lists improve ROI even further. Vendors can filter your lists to likely buyers, reducing mailing costs and increasing the impact of your direct mail campaigns.
Additional Marketing Advice and Related Articles
Given your interest in marketing and in art studios, you might find these additional resources to be of interest.
---
Conversation Board
Did you find our tips for marketing a art studio to be useful? Is there anything we forgot to mention? If so, we would love to hear your comments, questions and tips on this topic.
Do You Plan on Opening an Art Studio In the Near Future?
For those who want to open an art studio, here are some more appropriate better resources for you:
Do You Offer Products or Services to Art Studios?
If you want information on how to sell to art studios, this isn't the ideal place for you on our site. These guides are more appropriate for you:
More Marketing Guides
If you are looking for marketing advice for a different kind of business, please browse our directory of marketing guides below.
Browse more marketing resource guides: