Marketing an Auto Transport Business
Marketing plays a central role in any company. But when it comes to an auto transport business, your ability to market your brand can be the deciding factor between barely making it and achieving stellar industry success.
Marketing an auto transport business can be challenging, especially for business owners who lack a marketing background.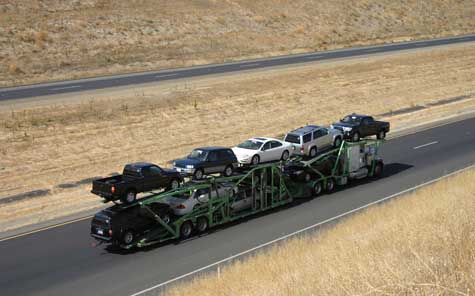 Top performers habitually integrate sound marketing concepts with market demands.
Strategic Partnerships
When multiple interests join together in a strategic partnership, they gain auto transport businesses economies of scale, not to mention a larger promotional footprint. Joint ad campaigns, mailings and other marketing initiatives can be conducted on either a short- or long-term basis, as long as each partner is involved in the creation of messaging and has approval authority over the content that is released.
Managing Negative Publicity
A certain amount of negative publicity is a given for most auto transport businesses. But the time to address your response to negative publicity is before it happens. If you wait until a crisis hits, it's already too late to control the message. The creation of a quality, crisis PR plan and the adequate preparation of key stakeholders is a requirement for any auto transport business interested in controlling negative messages. In a crisis, accurate contact lists can be a lifesaver. A top quality mailing list provider can provide fast turnaround times on up-to-date and filtered lists.
Coupons
Think you know all there is to know about coupling? Maybe not, at least when it comes to using coupons for auto transport business advertising. Although there are various ways to utilize coupons, the universal objective is to increase traffic, revenue and market exposure. In a typical coupon scenario, auto transport business operations leverage couponing to entice first-time customers to make initial contact with the brand. Coupled with other marketing techniques, a steady stream of legitimate coupon promotions can incentivize periodic customers to increase the frequency of purchases from your company.
More Marketing Tips and Related Articles
Given your interest in marketing and in auto transport businesses, you might find these additional resources to be of interest.
Selling an Auto Transport Business


---
Conversation Board
Is there any marketing advice you would suggest to entrepreneurs in this business? If so, please let us know by posting a comment below.
Ready to Start Your Own Auto Transport Business?
For tips on how to start an auto transport business, here are some more appropriate better resources for you:
Starting an Auto Transport Business


Do You Offer Products or Services to Auto Transport Businesses?
If you consider auto transport businesses to be sales prospects, this isn't the ideal place for you on our site. These guides are more appropriate for you:
Selling to Auto Transport Businesses
Mailing Lists for Auto Transport Businesses


More Marketing Guides
If you are looking for marketing advice for a different kind of business, please browse our directory of marketing guides below.
Browse more marketing resource guides: