Marketing an Indoor Playground
The task of promoting an indoor playground has to receive the highest priority in your organization. But what marketing techniques and strategies are successful in the current economy?
It's difficult to pinpoint a single marketing strategy that is capable of turning around a struggling business. However, great marketing strategies share a common characteristic.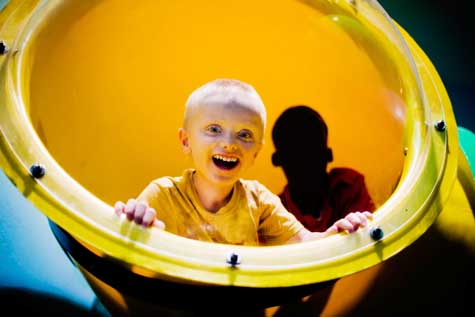 A robust marketing plan cements your company's relationships with customers. With that in mind, it's important to leverage marketing as a path toward better customer engagement in your indoor playground's planning process.
Do We Really Need A Logo?
Having a strong logo for an indoor playground is a big deal. We live in a visual world and logos are tangible expressions of your organization's key messages. Logos aren't something that can be changed overnight so it's important to put some thought into logo design. With a lot riding on a logo, it's worth the investment to hire a professional marketing and design firm for your logo needs.
Directories
Directories are a common tool for finding an indoor playground. When all of your competitors are listed in a directory, you have no choice in the matter. To keep pace, competitive businesses must include the same directories in their plans for marketing indoor playgrounds in a region or territory. Premium directories may or may not deliver the ROI you expect to receive from paid marketing vehicles. Regardless of whether it is a premium or free listing opportunity, every directory needs to be evaluated on its own merits. Some directories may also let you list more than your name and contact information, so be sure to ask whether your listing can include a logo and other information about your business.
Market Segmentation
Whether they admit it or not, all businesses adopt segmented marketing strategies. The marketplace is simply too large to effectively market an indoor playground to every possible buyer. Market segmentation has been around for decades and it has enabled many smaller companies to dominate parts of the market, even when they face competition from larger firms.
Filtered mailing lists facilitate market segmentation by focusing your resources on customers within your segment. The best list providers are equipped to accommodate various segments for contained within your indoor playground promotional efforts.
Additional Marketing Advice and Related Articles
Given your interest in marketing and in indoor playgrounds, you might find these additional resources to be of interest.
---
Conversation Board
What challenges have you experienced in marketing your indoor playground? How did you overcome those challenges? If you have practical insights about marketing, we'd like to hear from you.
Ready to Start Your Own Indoor Playground?
For those who want to open an indoor playground, here are some more appropriate better resources for you:
How to Start an Indoor Playground


Sell to Indoor Playgrounds?
If you want information on how to sell to indoor playgrounds, there's more useful information for you elsewhere on our site. Try these instead:
Mailing Lists for Indoor Playgrounds


More Guides on Marketing a Business
If you are looking for marketing advice for a different kind of business, please browse our directory of marketing guides below.
Browse more marketing resource guides: