Small Business Human Resources
Measuring Employee Performance
Written by Amy Bax for Gaebler Ventures
How do you decide what should be included in an employee evaluation? Here are some things to consider when listing the criteria an employee should accomplish in the job.
When hiring an employee, you need to know exactly what it is that you want them to do and accomplish for your company in order to achieve the overall mission statement of the company.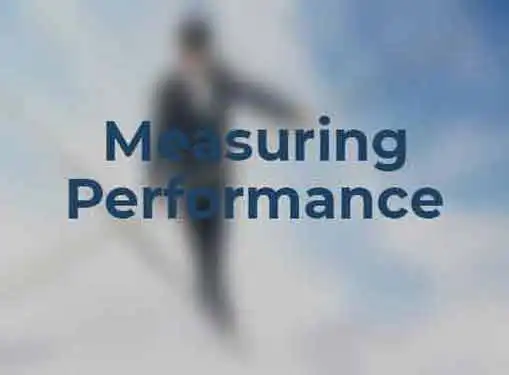 While hiring, you evaluate prospective hires' potential to do the job well.
Once they are hired, you need to continue to evaluate how they are performing in the job.
The performance evaluation of the employee is what you use to decide if they are accomplishing these goals and if they are doing so in an appropriate manner.
Identify Performance Characteristics and Job Criteria to Be Measured
It is important to make sure that employees are living up to the performance standards that are expected of them.
That is why it is a good idea to set standards, or job criteria, which need to be communicated and accomplished when hiring for a specific job. By having a good idea of what is expected from them, employees will hopefully perform better because of a sense of direction in what they are doing.
Now that you know what each standard entails, it is important to communicate the importance of each one and for them to know how to prioritize effectively. For example, a receptionist may be told that it is important for her to greet customers, answer the phones, file, and keep the office clean.
Clearly, greeting customers and answering phones are going to be more important in fulfilling customer satisfaction than filing and cleaning. An employer does not want customers to be ignored as they walk in because the receptionist feels that cleaning the office is just as if not more important that helping customers.
So, when communicating job criteria, let her know that these criteria are weighted: greeting customers and answering phones carries a weight of 70% relevance to the job, whereas filing and cleaning are still important, but only 30% of what her performance will be appraised on.
Employee Evaluation Mistakes to Avoid
As a word of caution, learn to be careful with subjective measurements. Things such as attitude or appearance, which can be important in many roles, are subjective when it comes to how different people feel about the matter. One person may think their attitude is fine, whereas another would see it as inappropriate.
Criteria will vary from job to job.
For example, what is considered as appropriate attire in one area of the business, may not be in another. For example, someone working in the stockroom of a department store where no one will see them may be allowed to wear jeans and tennis shoes. Being comfortable helps them to do their job more efficiently, versus trying to get stock ready to go out on the floor in heels that are hard to move around in or a tie that continues to get in the way.
So, they should be evaluated on a different level than people who are, say, sales associates in the jewelry department. In order to attract customers and communicate the value of the jewelry, associates will not want to wear jeans, but dress in a more professional manner.
During evaluations, make sure you consider issues such as these and create appropriate evaluative criteria for each instead of using one standard evaluation form. It is not helpful to completely eliminate these criteria -- as stated before, they can be important.
The key takeaway is that your performance evaluations must be context-sensitive, with flexibility built into the process. Just make sure to measure employees carefully with an open mind, or possibly have several people weigh in on the matter to get a more well-rounded opinion.
Communicate When and How Appraisals Will Be Performed
Many larger companies have a set policy on how many times per year and what procedures they follow when conducting performance appraisals. This is usually a formal evaluation.
For new employees, it can be helpful to benchmark their progress after the first month, and then again a couple months later in order to help them understand their role and to help you understand their progress. Then, they are evaluated every set period along with the regular employees every year or so.
Also, informal appraisals are what is done on a regular basis. Any employer or manager feedback that an employee receives is considered as informal evaluation of their work, which should be used to improve performance for the future.
Amy Bax is interested in providing innovative informational resources to entrepreneurs. She is currently an MBA student at the University of Missouri - Columbia.
Share this article
---
Additional Resources for Entrepreneurs