Microloans
Microfunding: The Newest Way to Get Venture Capital
Written by Chris Martin for Gaebler Ventures
Many entrepreneurs find it difficult to acquire startup capital. But there's a relatively new trend called microfunding that is helping many small business owners get funding. One company has created a platform to link microloan seekers with potential investors.
If you're an entrepreneur trying to get funding for a new venture or to expand your current business, you don't have to be told how difficult it is to acquire capital.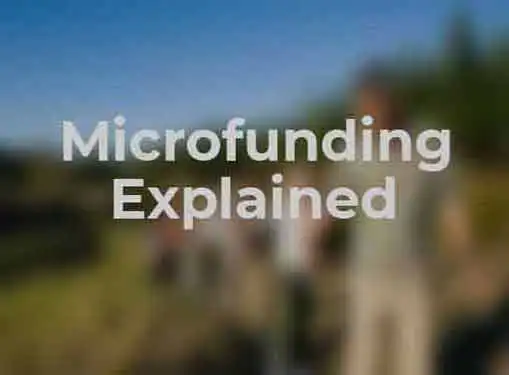 In a tight economy, small businesses do not have much luck with banks, credit unions, or similar financial institutions. Venture capitalists might not even consider a funding request without a stellar track record. And even if you do qualify for some funds, the application and decision-making processes may drag on too long, which could sink a small business before it receives the needed cash infusion.
So what alternatives are there?
One word: microfunding.
The concept is similar to microlending, which was the brainchild of Bangladeshi banker Muhammad Yunus. His Nobel Prize-winning idea consisted of numerous individuals loaning small amounts of money to businesses in impoverished nations in exchange for a decent return. Microfunding operates in a similar manner, with several investors or venture capitalists each contributing relatively modest amounts of money to a startup or small business.
One firm which is pioneering microlending is MicroVentures in Austin, Texas. It was founded in 2010 by Bill Clark, a former risk management portfolio manager for PayPal. Clark created a peer-to-peer network which is designed to bring angel investors and startups together.
Here's how it works. Startups seeking capital submit their business plan along with a $99 application fee. If MicroVentures feels the business plan is viable, the applicant pays another $250 for costs relating to due diligence before the plan is released. Enrollment for investors is free, and each entity is encouraged to contribute between $250 and $5,000 (though it's a soft cap). If 100% of the capital is gathered, the startup gets funded; otherwise, the money gets returned to the investors.
It's a win-win situation for all involved. Startup companies get a legitimate shot at obtaining capital they were denied by banks or big VC firms, while investors get help with regulatory challenges and the necessary due diligence along with the chance to assist a new entrepreneur. And both sides get a chance to dialogue with each other, address concerns, and formulate a strategy before committing to the partnership.
Currently, MicroVentures is focusing on businesses that are seeking funding amounts between $50,000 and $250,000. But the microlending firm hopes to grow in scope to where it has the capacity to accommodate capital requests of up to $1 million. Perhaps the most attractive quality of MicroVentures is that startups are guaranteed a chance for their business plan to be studied – instead of being tossed out unviewed by a bank or VC house.
Clark stresses that MicroVentures won't be funding any of the startups itself. And while the firm is open to business plans from all industries, Clark thinks that green technology and social media are two sectors which are growing in popularity with both entrepreneurs and investors alike. But he is banking on the practicality of the microlending concept to position MicroVentures as a solid option for startups and entrepreneurs in the years to come.
Chris Martin has been a professional writer for the last seven years. He is interested in franchises and equity acquisition.
Share this article
---
Additional Resources for Entrepreneurs