Help Naming a Business
Naming My Business
Naming a business is not a simple task. Good business names make for strong businesses. Bad business names can result in business failure.
"I need help naming my business" is something we hear often from new entrepreneurs, and for good reason.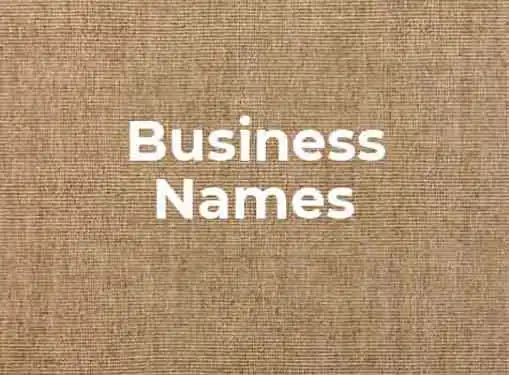 Picking a name for your business is one of the most important things you'll do.
If it's a name that's memorable and enticing, customers will be attracted to do business with you. If your business name's difficult to say or evokes negative feelings in some way, customers will go elsewhere.
If you are bootstrapping a business and have limited funds, you don't need to engage expensive branding consultants or business naming consultants. Choosing a good name simply requires creativity and a working knowledge of your target market. Here are a few tips to get you started.
Check for Domain Names First. These days, having a web site has become an essential part of running any business. As such, before you name your business, say, "Rose Flowers," you want to make sure that www.roseflowers.com is available. Even if you don't sell your products or services online, making sure your chosen website name isn't taken is an important first step in choosing business names. If you don't know how to check whether a domain is available, read our article on Buying a Website Domain.
Pick Simple Names. Avoid names that are tough to pronounce or hard to spell. Make sure that your business name only has one possible pronunciation so you don't have different people pronouncing your name differently.
Consider Searchability. When somebody searches for your business name in a search engine, will you be easy to find? A name like "Business Solutions Consulting" will be very hard to get into the top rankings. Abbreviated names are also tough challenges for search engine optimization. For example, Business Solutions Consulting might try to brand themselves as BSC. If they were to do that, they'd get lost in the search engines because they'd be competing against other BSC abbreviations like Broadcasting Standards Commission and Birmingham-Southern College. So, choose a name that is unique.
Convey Some Meaning. Ideally, your name will convey some meaning. For example, the name Guru PR suggests that the business owner is an expert at public relations. In contrast, a name like Exante conveys no meaning at all. The less meaning you convey in a name, the more time and money you will have to spend to brand your name. At a minimum, every name needs to have a story behind it. Why did you name your business X? You need to have a good answer.
Be Creative. Coming up with a unique name requires some creativity. For example, crayons got their name from the inventor's wife. She combined the words craie (French for chalk) with the first part of the word oleaginous (the oily paraffin wax) to make the word "crayola." To come up with a unique name, you may need to build a long list of words related to what you do in multiple languages. Start playing with the combinations and see what you come up with.
Test Your Name. Get feedback from customers or potential customers. The worst thing you can do is assume that just because you like your new business name, everyone will like it. Ask people what they think. If nobody likes your proposed business name, it's time to go back to the drawing board.
Make Sure You Won't Have Legal Troubles. Before you go to market with your new name, make sure your name or a very similar name is not being used by another business. You don't want to start your entrepreneurial adventure with a heated lawsuit that claims that you are infringing on another company's name. Keep in mind that some businesses only file trademarks within their locality, so it's possible that the same name can be used elsewhere.
Register Business Name as a Trademark. Trade names can be registered through state Secretary of State offices, and for wider marketplace protection, through the U.S. Patent and Trademark office (USPTO). Businesses should first use the USPTO's online system to search all state and federal trademark registers to see if their proposed name is being used.
Naming a business is not something that should be done in a hurry. If you make a mistake, the consequences could be dire - possibly even resulting in business failure. Take the time to do it right and come up with a great name for your business!
Share this article
---
Additional Resources for Entrepreneurs