Branding Advice for Entrepreneurs
Naming Your Company
Written by Richard San Juan for Gaebler Ventures
You have your business idea already set. You have a detailed business plan and initial capital ready to be used. Everything is going according to plan and it seems like you are ready to lay down the foundation for your startup that will become a huge industry empire in a few years time. Wait...you forgot something. You have not named your company!
Motorola released a couple years ago, a phone called RAZR.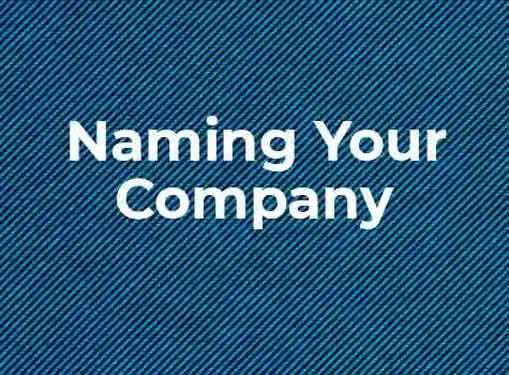 It was a very sleek, thin phone that was hugely popular and generated a lot of revenue for them. Do you think it would have been as successful if it had been called something else--maybe something more generic like "Slim Phone"?
It is possible, but I doubt it, because the name RAZR gives that edgy touch to the phone. Just saying the name invokes a razor-thin image about the phone.
This type of naming ability can also be incorporated for names of companies. This is especially important for small businesses or startups who are, no pun intended, trying to make a "name" for themselves.
It's a fact, however, that first impressions are important and the name of the company, along with its logo, is the first interaction with the potential consumer base.
Crafting a good company name often takes some careful consideration but it is an important step in the process of getting your business situated.
Starting out with a weak company name is like trying to go through an entire golf course with having only one golf club in your golf bag. You might be able to sink some shots, but it will be a lot harder than if you had all your golf clubs readily available. Why handicap yourself?
As a small business owner or entrepreneur, every little detail is important to get your business going. When brainstorming for your company name, there are some things that should be taken into consideration.
The first important aspect of thinking of a name is to determine if the name can be easily memorized. Having a company name that can be easily remembered will help keep your company in the minds of potential customers and clients. However, in addition to having a name that is not difficult to memorize, the spelling of the name should also be easy.
Try to avoid confusing words with irregular spelling. Furthermore, names that can be easily spelled will be much easier to find on the Internet or in a phone book. For example, naming your company an obscure name such as "Wrygleinschmoten" is a bad idea, since it is definitely hard to spell.
Moreover, small business owners and entrepreneurs should use particular words that give a company name good connotation.
When a small business owner or entrepreneur creates a business name, he or she must choose words that positively reinforce what you want potential customers and clients to associate with your business. It should show your product or service in a positive light.
For example, if you are starting a construction company, you do not want to have a weak sounding name, such as "Thin Sticks Construction" or "Barely Standing Associates". You want a company name that conveys strength and reliability, which is very important when it comes to construction of buildings and houses. Choices like "Oak Creek Construction" or "Bear Associates" would be much better, since the words "oak" and "bear" give the feeling of strength.
Richard San Juan is currently pursuing an MBA degree with an emphasis in Finance from DePaul University in Chicago. He is particularly interested in writing about business news and strategies.
Share this article
---
Additional Resources for Entrepreneurs