Small Business Marketing News
Using Sweepstakes And Charitable Donations For Business Lead Gen
Written by Tim Morral
Published: 10/26/2015
My good friend Kevin Lee has launched an interesting new service that blends charitable giving and sweepstakes to help companies build their marketing email lists.
As an experienced marketer, Kevin Lee, the founder of We-Care.com, knows that most businesses want more leads and a closer relationship with their target audiences.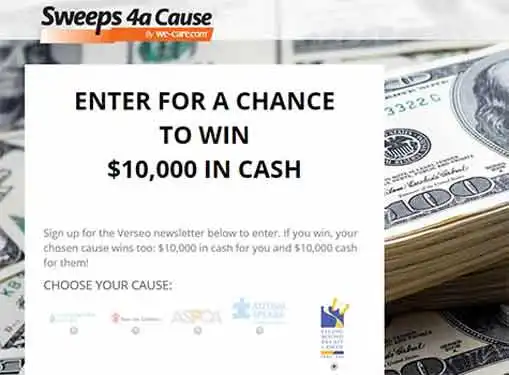 In this modern era, that means they'd love to get prospect and customer email address so they can stay in touch.
Kevin also knew implicitly that people like to win money. So he wondered whether these two facts could be combined together to create a business of some kind. In addition, was there any way to add in Kevin's personal interest in helping nonprofits into the mix?
The result of these three inputs is a business model that is hard to explain but that makes a ton of sense. Here's how it works.
You, as a business owner interested in getting more prospect/customer connections, put a promotion on your site that effectively says: "Complete this form to join our mailing list. We'll keep in touch with you with our own news and special offers. Plus, as an added bonus, you'll have a chance to win $10,000 and also have a $10,000 donation to charity made in your name."
Easier (and Less Expensive) Than You Might Think
At first blush, you might think this type of sweepstakes promotion is going to cost you $20,000. You might also quickly think: "It's not going to happen. I hear sweepstakes laws are complex and we've got no experience doing that. Too much trouble!"
This is where Kevin's We-Care.com business model, and its new Sweeps4aCause offering, comes to the rescue.
The sweepstakes entrants are pooled across many participating companies. For example, you may own a hair salon and your customers can enter to win $10,000. Down the street from you, there might be a car dealer who is also taking entrants (and collecting email addresses) on his website.
When the sweepstakes drawing takes place, the hair salon customers and the auto dealer customers (along with prospects and customers from many other for-profit and non-profit organizations) all have a chance to win that $10,000.
We-Care.com's Sweeps4aCause program handles all of the website tech and all of the sweepstakes operations and legal requirements.
So Who's Covering that $20,000 Prize?
The beauty of all of this is that you can build up your marketing lead database for nurture marketing purposes yet you don't have to pony up $20,000 for the incentive that gets people to give you their contact information.
So who's footing the bill and what does your business have to pay?
Right now, Sweeps4aCause pays the full $20,000 (including the $10,000 award to a customer and the $10,000 donation to charity). You don't have to pay a dime.
It bears repeating: you, as the business owner, don't have to pay a dime.
Why Would Sweeps4aCause Do This?
Sweeps4aCause covers the $20,000 by monetizing the email addresses they receive, but they do so in a way that is pretty benign.
That's right. Not only do you get the lead information, i.e. your site visitor's email address, but so does Sweeps4aCause.
That would be a non-starter if they were subsequently going to send spammy emails to your audience, but that's not the case. Instead, they nicely ask people to install a We-Care browser plug-in that lets people support their favorite charity whenever they shop.
When people with that plug-in buy something online at a participating vendor, a small donation is made to charity and a small referral fee is collected by We-Care.com to fund the sweepstakes prizes and ongoing operations. As such, the sweepstakes are in fact funded by the Amazons, Sears, and Targets of the world -- via their affiliate network payments to websites that drive traffic to them.
Four Big Winners
As I see it, everybody wins here.
Business owners get leads for nurture marketing programs.
Charities get donations.
Individual consumers get a chance to win $10,000 and donate $10,000 to a good cause.
Online businesses like Amazon, Sears and Target (for the record, I'm using specific brands for illustrative purposes, but these vendors may not actually be involved in Sweeps4aCause) get brand preference, website traffic and customer orders.
It's not too often you see that many winners in the business world.
Getting Started with Sweeps4aCause and We-Care.com
I came across Sweeps4aCause because I've known Kevin Lee for many years. We both went to the Yale University School of Management (Yale SOM) and we are kindred souls in terms of our interests in tech startups and marketing.
As I would expect of Kevin, he's made it very easy to implement Sweeps4aCause on your company's website. All of the web forms and the like are pre-coded for you and easily added to your site. In addition, he's made it easy to promote your sweepstakes on social media and via smartphone SMS text messages.
Right now, this is free to the business owner. Kevin says "We'll eventually start charging a modest fee for the service, but, even then, unless there's custom setup work we may allow for free trials."
Long story short, this could be a great new addition to your marketing plan. To learn more about offering this on your website, reach out to Sweeps4aCause team.
Share this article
---
About Our Business News for Entrepreneurs
We publish news articles for entrepreneurs five days a week. Our small business news articles review trends in business management, analyze the impact of new government policies, present relevant entrepreneurial research findings, and cover many other topics of interest to small business owners.
---
Additional Resources for Entrepreneurs