Legal Information for Entrepreneurs
Nondisclosure Agreement
A nondisclosure agreement could be the only thing preventing public disclosure of your company's proprietary information. We'll talk about the benefits and nondisclosure agreements and how they can be applied to your business context.
Nondisclosure (or confidentiality) agreements are designed to protect proprietary information and trade secrets.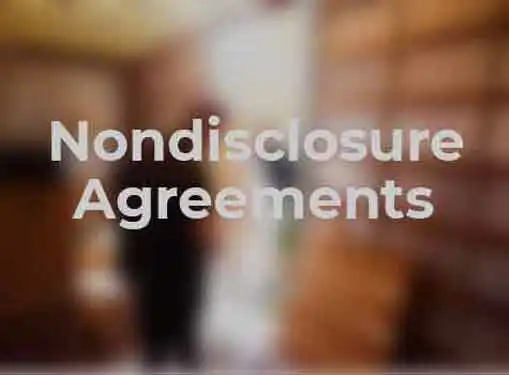 Some industries (e.g. high tech, manufacturing R&D) are a natural fit for nondisclosure agreements. However, companies located in other industries can also benefit from these kinds of agreements, especially if the organization's financial data or specific business model isn't available for public consumption.
As your risk increases, the amount of time and effort you invest in creating your nondisclosure documents should increase as well. If you are looking for a general nondisclosure clause that will be applied to a couple of low-level office workers, a tailored nondisclosure form template will probably suffice. But when the stakes are high, you need to involve your attorney in every step of the process. Here are a few other things you'll want to consider.
Types of Nondisclosure Agreements
Nondisclosure agreements aren't used exclusively for exiting full-time employees. They also play a significant role in your relationships with independent contractors or strategic business partners. The two general types of nondisclosure agreements are one-way and two-way agreements. One-way agreements are usually used with employees and contractors. Two-way agreements, or agreements in which two parties are sharing confidential information, are more commonplace in strategic business partnerships.
Essential Ingredients
Description of information. The effectiveness of a nondisclosure agreement rests primarily on the description of the information that is classified as confidential. Go into as much detail as possible to close up any legal loopholes related to uses of proprietary knowledge.
Exclusions. Nondisclosure agreements gain legal standing when they articulate the kinds of information that is excluded from the agreement. This typically includes knowledge that the other party gained independently, outside of their relationship to your company.
Obligations and term. It's often necessary to specify the limitations imposed on the use of the information described in the nondisclosure agreement. In some cases, the other party will be able to use the information for certain purposes - but not others. Likewise, the agreement should clearly describe the term of disclosure, commonly five years for U.S.-based firms.
Provisions. Additional provisions listed at the end of the agreement seal the deal and create a process for the resolution of perceived breaches. It's fairly typical for provision clauses to discuss legal remedies and arbitration procedures.
Share this article
---
Additional Resources for Entrepreneurs