Becoming an Entrepreneur
Opening a Cabin, Cottage, & Chalet Rental Business
Launching a cabin, cottage, and chalet rental business is an excellent entrepreneurial opportunity as long as you separate yourself from the competition. This article contains a friendly, comprehensive guide on the essential elements for business success.
Not everybody can afford to buy a vacation home outright. That's a big opportunity for those of you who open a cabin, cottage, and chalet rental business.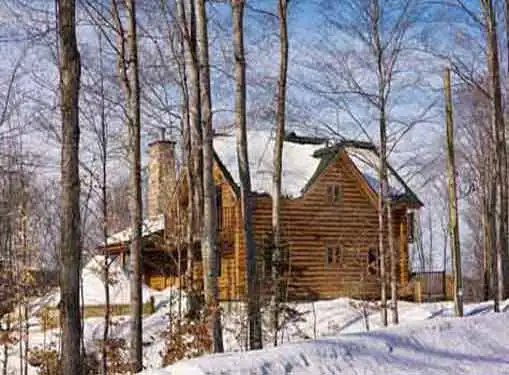 Starting a Vacation Rental Business
Vacation rental properties are a big market, spanning condo rentals, cabin rentals, cottage rentals, chalet rentals, villa rentals, apartment rentals, farmhouse rentals, and boat house rentals.
In fact, it's estimated that there are 6.8 million vacation homes in the United States. That shows that Americans love to spend time in a vacation property, such as a cabin or cottage.
As an entrepreneur, that spells opportunity for you. Buy a few cabins, rent them out, and reap the rewards. Your goal is to cover your expenses, including your mortgage, and make enough money to pay yourself a handsome salary...or even better buy more investment properties to rent.
Successful Business Plans for Cabin, Cottage, & Chalet Rental Businesses
An effective business plan is your cabin, cottage, and chalet rental business's stepping stone to profitability and long-term success.
A shoddy business plan is a major misstep for a startup cabin, cottage, and chalet rental business. Even though it takes time to write a high quality plan, there are a lot of arguments why your company can't succeed without an effective business plan.
From a business ownership perspective, that makes business planning your first priority - and not a task that can be assigned to the back burner.
Look Over Competitors
Well in advance of opening a cabin, cottage, and chalet rental business within your community, it's a smart move to see how strong the competition is. Try our link below to find competitors in your area. Simply enter your city, state and zip code to get a list of cabin, cottage, and chalet rental businesses in your town.
Is the established competition doing a good job? It's important to understand their strengths and weaknesses and think through how you'll stake up against those established businesses.
Learn from Others Who Are Already In This Space
If you want to open a cabin, cottage, and chalet rental business the next step is to learn from folks who are already in business. Local competitors are not going to give you the time of day, mind you. Why would they want to educate a future competitor?
On the other hand, an individual who has a cabin, cottage, and chalet rental business outside of your community may be willing to share their entrepreneurial wisdom with you, given that you don't compete with them in their area. In that case, the business owner may be more than happy to discuss the industry with you. In my experience, you may have to call ten business owners in order to find one who is willing to share his wisdom with you.
So, what can you do to find a cabin, cottage, and chalet rental business founder on the other side of the country to talk to?
No problem! Just use the link below and try a random city/state or zipcode. Then start dialing for advice until you are successful.
Business Brokerage for Cabin, Cottage, & Chalet Rental Business Entrepreneurs
Sooner or later, every entrepreneur confronts the choice to start a business or buy an established company. In most cases, there are compelling financial and practical reasons buying an existing cabin, cottage, and chalet rental business.
A qualified business brokers can provide a range of services designed to ease your transition into business ownership.
By leveraging the skills, expertise and network of a first-rate business broker, you eliminate the hassles commonly associated with the business buying experience.
Don't Forget About Franchising As an Option
Purchasing a franchising lets you tap into the franchisor's knowledge of the industry and a tested system for operating the business.
Prior to starting a cabin, cottage, and chalet rental business, you would be wise to investigate whether franchise opportunities in your space might increase your chances of success.
The link below gives you access to our franchise directory so you can see if there's a franchise opportunity for you. You might even find something that points you in a completely different direction.
Related Articles on Starting a Company
These additional resources regarding starting a business may be of interest to you.
Consideration Before Buying a Franchise
Share this article
---
Additional Resources for Entrepreneurs