How to Start a Business
Opening a Dialysis Clinic
We've collected some good advice that is perfect for those who want to open a dialysis clinic. This is a must-read before you begin your venture.
Wondering how to start a dialysis clinic? We take you step-by-step from start to success.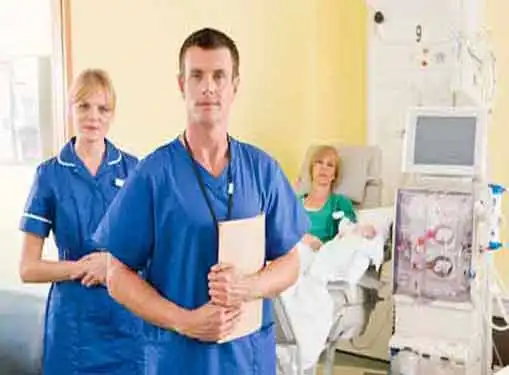 Prerequisites for Opening a Dialysis Clinic
The healthcare industry is bursting with opportunities for medically minded entrepreneurs to strike out on their own and launch profitable health service centers, including dialysis clinics.
Compared to other typs of business startups, the stakes tend to be very high for new dialysis clinics. The people who will patronize your clinic are literally putting their lives in your hands, so the first prerequisite for clinic launch is a willingness to make patient needs your first priority.
You'll also need a background in nephrology -- if you're not a licensed nephrologist yourself, hiring (or partnerships with nephrologists) will take center stage in your business model and pro forma budget.
Performing a Feasibility Study for a Startup Dialysis Clinic
One of the first tasks you'll need to perform is to obtain a Certificate of Need (CON) from your state health association and register as an Ambulatory Surgical Center. The Certificate of Need is designed to help manage the cost of constructing a healthcare facility and to coordinate community-wide medical services.
But before you apply for a CON, we recommend conducting a feasibility study to determine whether it's even possible to launch a profitable clinic in your area.
Dialysis machines and other equipment can be leased to minimize startup capital requirements. According to some estimates, the breakeven patient load for a dialysis clinic startup is 18 to 24 dialysis patients. If you aren't confident that your clinic can attract at least a few dozen patients fairly quickly, it's time to go back to the drawing board.
Also, when you run the financials for your feasibility study, plan on setting up multiple dialysis stations, preferably a dozen or more to give your patients adequate access to treatment and to accommodate future expansion.
For more details about clinic feasibility, coding & billing, dialysis regulations and other important topics, we recommend that you contact the Renal Physicians Association (RPA).
Successful Business Plans for Dialysis Clinics
An effective business plan is your dialysis clinic's stepping stone to profitability and long-term success.
Although there are a lot of tasks screaming for your attention, cutting corners on your business plan can be a precursor to disaster. Why? Because there are a multitude of reasons why your company can't succeed without a sound business plan.
As a rule, don't exit the business planning process until you are completely satisfied with the scope and content of your business plan.
Check Out Competitors
Prior to opening a dialysis clinic within your community, it's a smart move to determine how you will fit in the competitive landscape. Use the link below to find competitors nearby. Complete the form by entering your city, state and zip code to get a list of dialysis clinics that are close by.
How tough is the competition in the market you are considering? If the competition is too tough, you may need to think about starting the business in a different area or even start a completely different business instead.
Studying the Market
After you've evaluated your local competitors, the next step is to speak with somebody who is already in the business. If you think your local competitors will give you advice, you're being overoptimistic. What's in it for them?
However, a fellow entrepreneur who has started a dialysis clinic in a different city will be much more likely to talk with you, after they realize you reside far away from them and won't be stealing their local customers. In that case, the business owner may be more than happy to discuss the industry with you. It can take a while to find an entrepreneur who is willing to talk, but it's well worth the effort.
How does one quickly and easily locate a dialysis clinic manager in another city who you can speak with?
Here's one way to do it. Just use our link below, find somebody and call them.
Business Brokerage for Dialysis Clinic Entrepreneurs
Business owners are decision makers. And the first decision you'll need to make is between a dialysis clinic startup and an acquisition. In most cases, there are compelling financial and practical reasons buying an existing dialysis clinic.
A qualified business brokers can provide a range of services designed to ease your transition into business ownership.
The best business brokers will ensure that you get the right business for the right price, and will help you avoid common dialysis clinic acquisition mistakes.
Explore Franchising Options
The chances of surviving in business greatly improve if you purchase a franchise and benefit from the prior work of others and their lessons learned.
If you planning on starting a dialysis clinic, it's worthwhile to investigate whether there are good franchise opportunities available that might make your life much easier.
The link below gives you access to our franchise directory so you can see if there's a franchise opportunity for you. You might even find something that points you in a completely different direction.
More Startup Articles
These additional resources regarding starting a business may be of interest to you.
Share this article
---
Additional Resources for Entrepreneurs