Starting a Business How to Guides
Opening a Kitchen Exhaust System Cleaning Business
If you are contemplating opening a kitchen exhaust system cleaning business, step one is being sure to avoid the mistakes that other entrepreneurs learned the hard way.
Thinking about opening a kitchen exhaust system cleaning business? We tell you what you need to know to get started.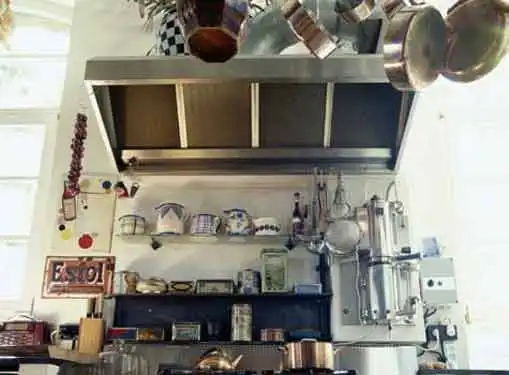 The Demand for Kitchen Exhaust Cleaning Businesses
Kitchen exhaust cleaning businesses are much more than glorified maintenance providers. Commercial restaurants are required to have kitchen exhausts inspected every six to twelve months to reduce the risk of grease fires. Prior to inspection, most restaurants hire professional exhaust cleaning companies to maintain and document their exhausts.
Not surprisingly, the steady demand for kitchen exhaust cleaning attracts no small number of exhaust maintenance entrepreneurs to local markets. Pre-existing relationships and service contracts can present challenges for startup entrepreneurs attempting to get into the exhaust cleaning business, especially if they lack connections in the local restaurant community.
How to Penetrate a Tight Kitchen Exhaust Cleaning Marketplace
The best way to penetrate the kitchen exhaust cleaning market is to be at the right place at the right time. As long as they aren't bound by a service contract, restaurateurs are usually willing to hire the kitchen exhaust cleaning provider that delivers the fastest service for the lowest price.
One of the ways to position your startup for opportunities is to network with local restaurants and maintain a database of their inspection cycles. Using a simple CRM solution, you can intentionally put your exhaust cleaning business on your customers' radar precisely when they need your services.
Growth Possibilities for Kitchen Exhaust Cleaning Startups
There are many ways to expand your kitchen exhaust cleaning startup to capture a bigger share of the restaurant safety and maintenance marketplace. Geographic expansion presents the most logical growth opportunity, but you may also want to consider expanding your offerings to include fire extinguisher maintenance and other services that help your customers comply with inspection standards.
As you grow, keep in mind that the more services you provide your customers, the harder it is for them to abandon you for another provider. Conversely, if geographic expansion spreads your kitchen exhaust too thin to adequately meet your customers' needs, you could lose a large number of customers to more focused competitors.
Essential Features of Business Plans for Kitchen Exhaust System Cleaning Businesses
Ask a dozen people how to write an effective business plan and you'll get a dozen different answers. But despite the diversity of approaches, there are some business plan features that are absolutely essential.
The mandatory components of a kitchen exhaust system cleaning company business plan include an executive summary, mission statement, strategic overview, financial plan, marketing plan and timetable. Without these elements, your plan will have limited use to lenders, investors and other stakeholders..
To discuss the external factors that will influence your startup, consider dedicating a section of your business to a PEST (Political, Economic, Social & Technological) analysis.
Evaluate the Competition
Well in advance of opening a kitchen exhaust system cleaning business in your area, it's worthwhile to see how many competitors you have. Try our link below to generate a list of competitors nearby. Just enter your city, state and zip code to get a list of kitchen exhaust system cleaning businesses in your community.
Is the local market large enough to support another kitchen exhaust system cleaning business? If not, you had better be sure that you are doing things much better than the competition.
Talk to People Who Are Already in the Business
After you've evaluated your local competitors, you really ought to have a conversation with someone who is in the business. It's very unlikely that the local competition will talk to you. The last thing they want to do is help you to be a better competitor.
However, a fellow entrepreneur who has started a kitchen exhaust system cleaning business in a location that is not competitive to you can be a great learning resource for you, as long as they don't view you as a competitive threat. Many business owners are happy to give advice to new entrepreneurs If you are persistent, you can find a business mentor who is willing to help you out.
How does one go about finding a kitchen exhaust system cleaning business owner on the other side of the country to talk to?
Here's how we would do it. Try the useful link below and key in a random city/state or zipcode.
Advice for Acquiring a Kitchen Exhaust System Cleaning Business
Many entrepreneurs elect to acquire a profitable kitchen exhaust system cleaning business instead of navigating the challenges of a business startup.
Yet for many entrepreneurs, financing represents a major hurdle to buying a kitchen exhaust system cleaning business. Business acquisitions are easier to finance than business startups, even though the financing process can still be exhausting.
Our Business Acquisition Financing Tips have the information you need to successfully navigate the challenges of financing your new business.
Consider Buying a Franchise
The probabilities on your surviving in business are much better if you purchase a franchise and benefit from the prior work of others and their lessons learned.
If your goal is to start a kitchen exhaust system cleaning business, you would be wise to investigate whether franchising might make your life much easier.
The link below gives you access to our franchise directory so you can see if there's a franchise opportunity for you. You might even find something that points you in a completely different direction.
Other Useful Articles for Startup Entrepreneurs
These additional resources regarding getting started as an entrepreneur may be of interest to you.
Coming Up With Good Business Ideas


Share this article
---
Additional Resources for Entrepreneurs