Small Business Marketing
Opportunities and Threats-Part 2 of SWOT Analysis
Written by Jay Shapiro for Gaebler Ventures
The OT in SWOT Analysis stands for Opportunities and Threats, what are yours?
Continuing from Part 1, how can you determine opportunities and threats facing your business?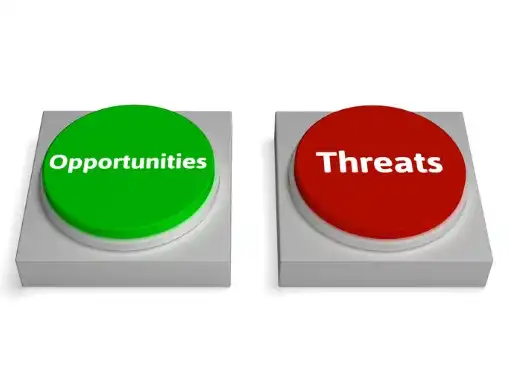 The O in SWOT represents Opportunities:
Opportunity Info:
Remember that these opportunities arise from outside the company or organisation. What exactly are external opportunities?
They could be areas of the market that the company has not yet addressed
Or regions outside the area the company trades in that could offer good revenue opportunities if expanded into.
They could be changes in technology that could make product cheaper or better performing.
Or they could new manufacturing methods that lower costs or improve reliability or yield.
An external opportunity could even be the chance to take-over a competitor to gain access to different areas of the market or consolidate existing ones.
The T in SWOT represents Threats:
Threat Info:
Again competitors are a good place to start; by building a list of their opportunities you get a very good idea of which of those would be a threat to your own business. What exactly are external threats?
Any legislative changes that could impact your ability to do business in the areas you currently trade in.
Then consider new technologies that could remove the need for your product or service, like coal producers watching the country being piped up for the deliver of gas to homes and commercial premises.
The explanation of all the SWOT areas (strengths, weaknesses, opportunities and threats) is vague because so much depends on the kind of product or service your company delivers. Hopefully there is enough information to get your own creative thinking going and help you produce your own customised SWOT analysis.
Once you have filled in each section in line with the idea above you can start on the real work. Deciding what actions you need to take for every item you have identified. For your strengths you need to consider how you will consolidate them and defend them in the future, also how you will convey them to your prospective customers as reasons they need to buy your products.
For your weaknesses you need a roadmap for introducing features or other remedies to mitigate those weaknesses. Are there markets where your weaknesses will have less impact?
For threats you need to assess the impact of each threat and have a plan to counter them should they materialise. Brainstorm each threat, you often find there is an opportunity hidden in there if you apply a little lateral thinking.
Jay Shapiro is a freelance writer based in the UK. Jay has a particular interest in the emotive aspects of the entrepreneur's character. "Alongside the nuts and bolts of business, the character of the person is often the ingredient responsible for success."
Share this article
---
Additional Resources for Entrepreneurs