Where to Buy Business Cards
Ordering Business Cards Online
Ordering business cards used to be a hassle. But today's online business card vendors have taken the pain out of ordering business cards with business card solutions that are attractive, easy-to-use, and affordable for the average small business owner.
In the not-so-distant past, most people avoided ordering new business cards because the process was time consuming, cumbersome, and a little bit mysterious.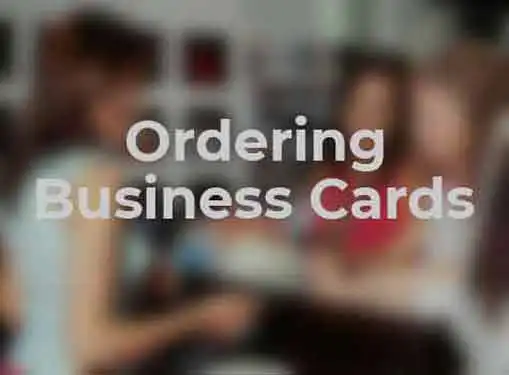 These days, ordering business cards is much easier. Why? Because the Internet has spawned a generation of online business card vendors who specialize in supplying the masses with business cards that are both appealing and affordable.
Although some people still turn to traditional printers for their business card needs, many entrepreneurs are discovering that online vendors are more than capable of meeting their business card needs. Generally speaking, if you can order it from a printer you can order it online - and probably for less money.
If you're still on the fence about ordering your business cards online, here a few things to consider:
Convenience. Online business card providers have been so successful because they offer a quick and easy alternative to traditional printers. With literally hundreds of business card templates at your fingertips, you just pop in your contact info, make a few design selections and voila! In a matter of minutes, you have designed a high-quality business card that you can preview before you finalize the order.
Customization. Even though most online business card vendors rely on templates, they also make it easy to customize your business card to match your company's letterhead or other print material. Logos, color selections, font choices, even images - it can all be tailored to fit your personal preferences and design specifications.
Cost. Compared to the products of traditional business card printers, online business cards are dirt cheap. How cheap? Orders of 250 business cards start at around $15. That's about $.06 per business card - much less than you would expect to pay a traditional business card printer, not to mention the fact that the economics of traditional printing often require large print runs of 500 business cards or more.
Quick Turnaround. Cheap and easy aren't the only words to describe online business card orders. They're fast, too. The standard turnaround time for online orders is at least a week. But if you need your new business cards in a day or two most online business card providers will be happy to accommodate your request for a moderate upcharge.
Share this article
---
Additional Resources for Entrepreneurs