Business Card Advice
Thumb Drive Business Cards
For some executives, traditional business cards are a thing of the past. But do USB thumb drive business cards really live up to the hype?
You've seen them. Handy little thumb drives emblazoned with contact info and chocked full of promotional content.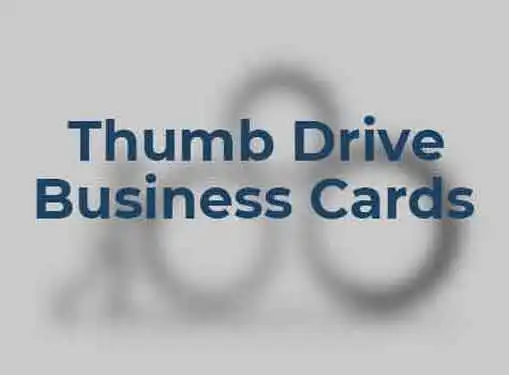 Placed side by side, it seems difficult for traditional business cards to compete with the slick design, compact packaging and information storage capacity of their technologically-advanced counterparts.
Yet thumb drives aren't a one-size-fits-all business card solution. In addition to their technological benefits, thumb drive business cards also come with some significant drawbacks. So before you drop your traditional business cards in the recycling bin, consider the pros and cons of transitioning your business card to a flash drive format.
The Pros of Thumb Drive Business Cards
Convenience. For people who are technologically literate, thumb drive business cards are a convenient way to transmit contact numbers and other information. By printing contact info directly on the drive, executives can make sure their card continues to work for them even when it isn't plugged into a computer.
Capacity. Storage capacity is one of the most important benefits of thumb drive business cards. At most, traditional business cards are only capable of holding a few lines of information. Thumb drives hold several gigabytes of data, giving business owners the ability to include brochures, photos, and other marketing materials on every business card they distribute.
Retention. People tend to view USB drives as inherently valuable resources. Since most folks feel guilty about dumping a perfectly good piece of technology in the garbage can, thumb drive business cards are often retained longer than traditional business cards.
The Cons of Thumb Drive Business Cards
Cost. As you might expect, cost is one of the primary disadvantages of thumb drive business cards. While traditional card stock business cards can be purchased for pocket change, each USB thumb drive costs several dollars or more, making it cost prohibitive for most small business owners to rely exclusively on thumb drives for their business card needs.
Inflexibility. Thumb drive business cards can be great resources. But unless the recipient knows how to use a computer, thumb drive business cards are completely useless. Something else to consider is the usefulness of thumb drive business cards when a computer is not readily available. The contact information printed on the exterior of the drive is fine, but unless they plug it into a USB port it's not enough to wow potential clients or contacts.
Share this article
---
Additional Resources for Entrepreneurs