Human Resources Articles
Outsourcing Recruiting
Written by Stefan Martinovic for Gaebler Ventures
Outsourcing recruiting to temp agencies, headhunters, and executive search firms can free a business owner up to focus on more important things.
As an entrepreneur, you have your hands full owning and operating your own business.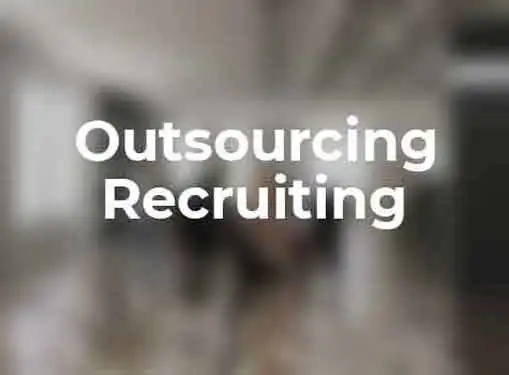 Certain business practices may seem like a necessary evil that you simply may not have time for.
If you do not have a background in human resources, making recruiting efforts may be one practice that you might wish to avoid.
Fortunately, there are many opportunities to outsource recruiting and hiring operations by bringing in outside resources to do the job for you.
Temp agencies, headhunters, and executive search firms can all prove to be valuable time-saving assets to your business.
Temp agencies are a good place to start as you are bringing in initial manpower to fit the needs of your business. These agencies recruit candidates independently and perform their own screening and background checks as well as skills evaluations. If your business has temporary needs because the future remains uncertain, signing an employee from a temp agency to a contracted period of employment is a good alternative to bringing in someone on a full-time salaried basis.
Remittance of payment and all benefit goes through the temp agency in most cases, so you do not have to take on the human resources burden of the new employee. Many times, employers end up needing the employee on a full-time basis after expiration of the contract and if when satisfied with the employee's performance, can opt to hire the employee independently of the temp agency.
Headhunters or staffing agencies operate in a similar fashion to temp agencies in many regards. They also maintain a wealth of available employees for hire and generally perform their own background and skills checks. While some positions offered through staffing agencies are temporary in nature, mainly these firms offer full-time employment opportunities.
In hiring full-time candidate through staffing agencies, the hiring company also takes on the payroll and benefit responsibilities. If you are looking to grow your company but do simply not have the means to perform comprehensive screening of potential candidates, a staffing agency is often a feasible alternative. Staffing agencies also perform initial interviews and will only direct candidates to you for final approval that have met their initial qualifications and if they believe a mutual fit has been achieved.
Executive search firms are more geared towards individuals with a good deal of experience who are later on in their careers. As a principal to the business, you may find a need to bring in a proven leader with industry experience to shoulder a portion of the management load. By working with an executive search firm, you can more easily access a pool of candidates that have a proven track record in business. By bringing in an individual of such a caliber, you are certain to pay a higher price, but in many cases, the quality and background of an individual in need can be invaluable.
Regardless of the hiring needs of your business, you can be sure to save time and money by tapping into the experience of an adept recruiting company that will strive to match your positions with candidates that meet your needs.
Stefan Martinovic has an extensive body of work across the financial services, manufacturing, and retail industries. He is currently pursuing an MBA in Management and Entrepreneurship at The College of William & Mary.
Share this article
---
Additional Resources for Entrepreneurs